Apple AirPods are always in great demand and highly popular since their inception. We bought AirPods 2, two years ago and now we know why it's more and more people are buying them. So in this Apple AirPods 2 Long Term Review, we will talk about everything that you should know before buying Apple AirPods 2.
Here, we've talked about the Built Quality, Looks, Comfort, Grip, User Experience (Android vs iOS), Audio Quality, Mic Output, Battery Backup, and our verdict and alternatives.
if you are new at PadhkeDekho, we buy tech products and services, use them for a little over 1 month, and share unbiased customer-centric reviews. This gives our readers content that they are actually looking for instead of heavy marketing words and calling it a day!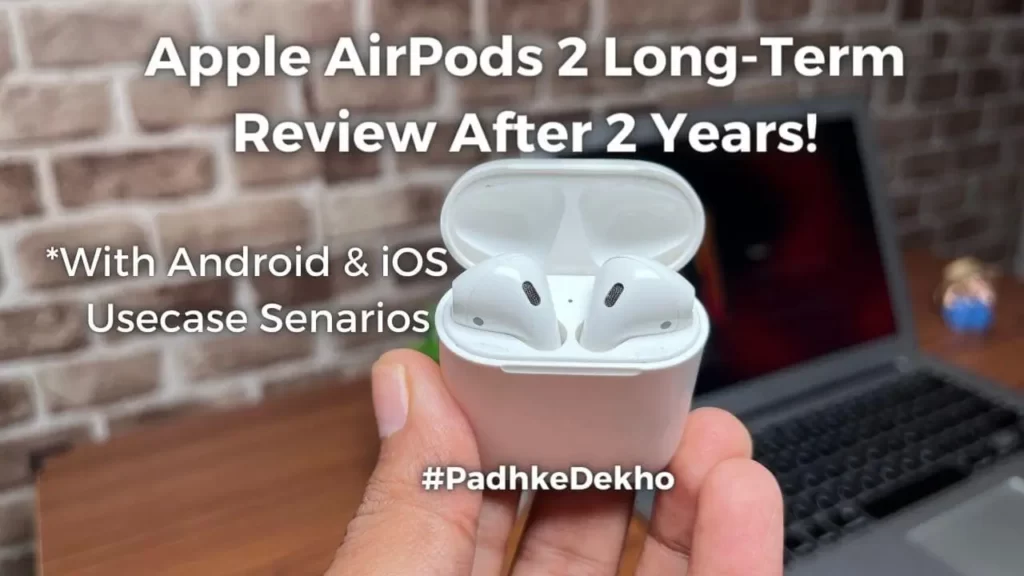 We are supported by readers like you. Buying anything using the links on this page might help us earn a small commission from Amazon at no additional cost to you. This, however, does not affect our opinion about a product.
With that said let's begin the Apple AirPods 2 review with Built Quality.
Built Quality (9.5/10)
In one word: remarkable! The moment you will unbox the product you will go wow. Certainly feels like a 13,000 Rs product. This wow feeling will even grow more the moment you will open the case with one hand and take the buds out!
You got the gist, that it's a good quality product. But how good exactly?
To begin with let's talk about the hinges. These magnetic connectors are so precisely done that a little force from a thumb can open or close the lid. At the time of writing this article, it's still "like new" and "no flex" or creaking noise so far!
Even today, tws earbuds that can be operated by one hand are still a challenge. It's still the best one and nothing comes close.
As for the buds, they are perfect. No sharp edges, the steam is strong, and does not feel cheap at all. In these 2 years of use, they have witnessed a few drops and are still in the best possible shape.
Looks (Hit or Miss)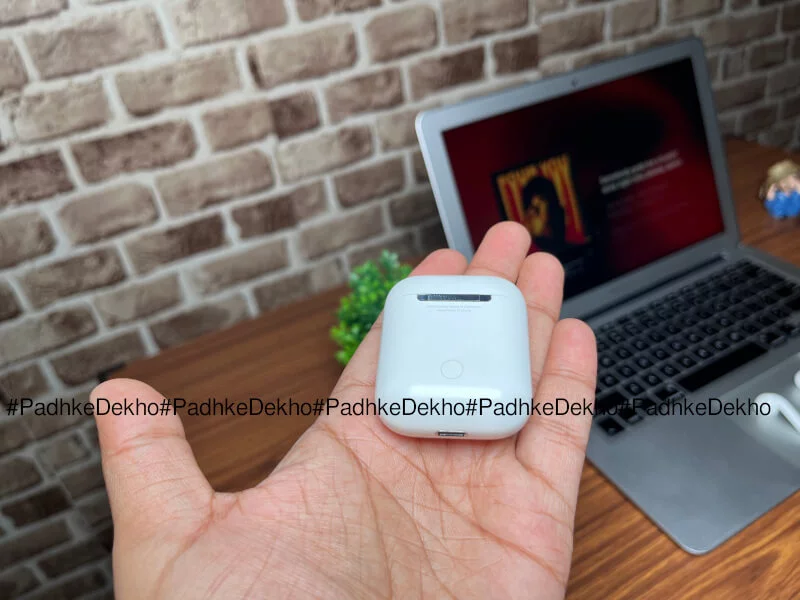 The design of Apple AirPods is a role model of many TWS that you see even today. Most of the buds have a long stem design and especially have white color so that they can "look" similar to Apple AirPods. This helps brands hype their product I am not against it.
Let's come back to Apple AirPods 2 looks.
One good thing about the case is the compact design. It does not make a big hump in your pockets. We've owned more than 20 odd TWS earbuds and none is as compact as the AirPods 2.
Let's now talk about the charging or carry case first. It's glossy and attracts scratches very easily. Hence before getting AirPods, order a few skins so that you can use them freely.
What about the buds?
The buds offer half in-ear design with a significantly longer stem. This has its pros and cons that I will talk about in the feel section below.
Why not full marks for looks? Because it's available in white color only!
Feel (9.5/10)
So far we've owned and tested more than 20 TWS earbuds and finding comfortable pair is difficult. Why? because humans have different ear designs and sizes. Which means one size does not fit all!
Let's put it this way; You go to a fancy restaurant and order a curry-based delicacy. Even if you mention the spice or salt preference they will still give you a bland one. Why? so that you can add salt and paper as per your needs.
Earbuds that are half in-ear like the Apple AirPods are the bland choice. Like that, it will work for many folks out there. Even if you have small ears or slightly larger ones, you can wear these comfortably.
I myself have large ears and usually prefer earbuds with silicon ear tips I don't mind wearing Apple AirPods because of the feel and comfort on offer.
You can wear these for very long hours without any pain or discomfort. My niece is 13 years old and my father is 60+ and can easily wear Apple AirPods 2! So you will be fine with these.
But! if you wish to wear these for workouts and gym the story is totally different. Coming up flip; Grip!
Grip (7/10)
With more than 2 years of on-and-off use, I have a lot to say here.
In general use, Apple AirPods 2 do not fall that easily. Doesn't matter how hard your wiggle or twist your neck! It's even better for people with small ears. The design is perfect and offers the best snug fit a half-in-ear earbud can give.
Watching movies on the couch, and listing to music while resting straight is not a problem. So no complaitans here.
But what about workouts and gymming?
Apple AirPods 2 can be worn for light workouts like treadmills, jogging, or cycling session in the gym with no problem. Sometimes with sweat, the touch controls need a few taps but that's fine it happens.
But for those who are into heavy-weight training or hitting extreme cardio, you need to have the Apple AirPods Pro or earbuds which come with silicon ear tips. Why? Because half-in-ear buds lose grip with sweat and ultimately pop out.
Since I have large ears, I prefer earbuds with silicon tips or ear hooks for the best grip and snug fit. So I would give 7/10 for grip to Apple AirPods 2.
User Experience (Android VS iOS)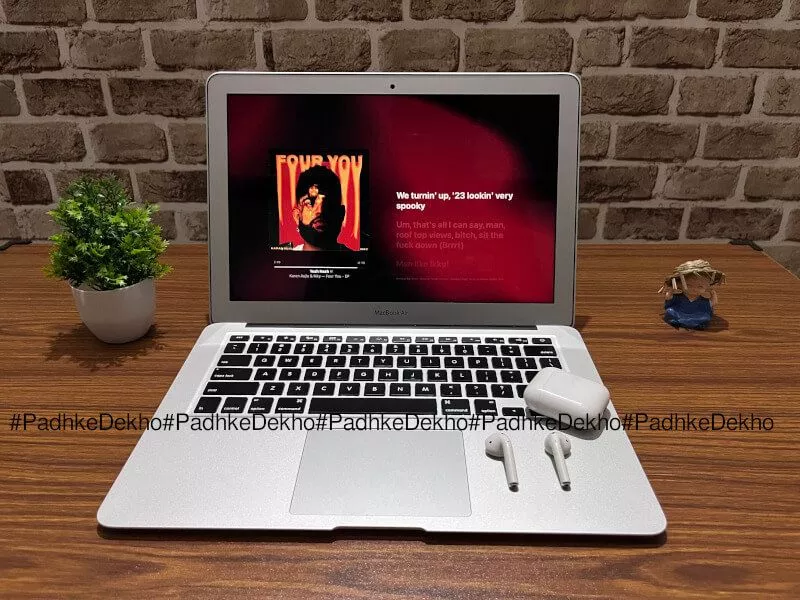 Since it's an Apple product it's designed with the Apple ecosystem in mind, hence the experience is phenomenal. For context, auto pair, auto switch between the connected devices, and customize double tap controls, are a few features.
It's all very smooth and breeze and there's no denying it. If you have Apple products then this makes sense and will add more convenience to the table. So. got an iPhone? Grab AirPods Too!
What if your phone is Android? Does AirPods Work With Android?
To be honest, it works, barely! You can pair it using the Bluetooth Settings of your phone, just like any regular TWS. And the media controls like play and pause will work and that's about it.
And here's a long list of things that will not work! To begin with, No Siri activation, customize double tap controls, automatic switching between connected devices, automatic ear detection, and using one earbud in mono mode to name a few!
Apple AirPods 2 for an Android user is a normal tws earbud in terms of features with a price of Rolls-Royce! This means if your primary device is an Android you should avoid getting Apple AirPods. Instead for the price go with the OnePlus Buds Pro 2 (review soon) which is pure bliss.
Audio Quality (8/10)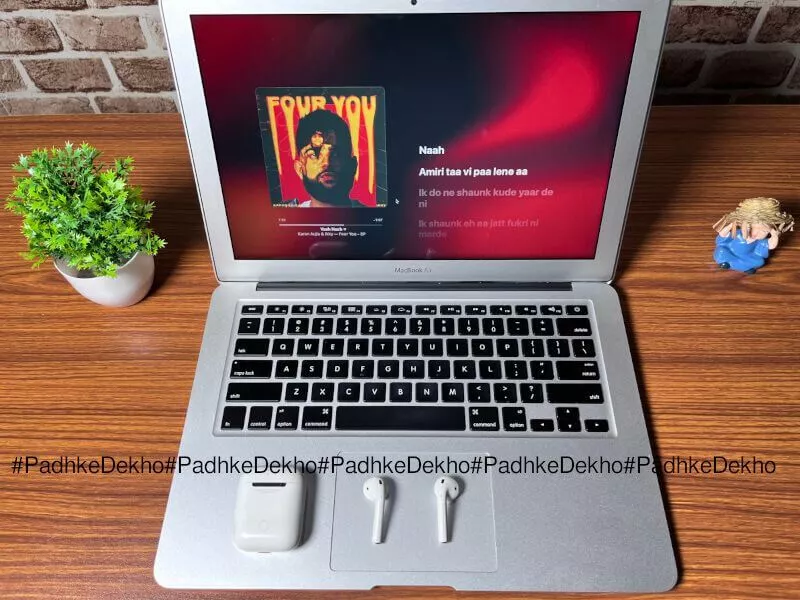 All it comes down to the audio quality when you play your favorite track for the first time on new audio gear!
Since we deal in many TWS earbuds we get a sense of expectation based on their design language.
Usually, half-in-ear earbuds are not the best ones out there for those who value bass. if you are a bass-head, you are better off with Jabra Elite 4 or OnePlus Buds Pro 2 hands down. Don't look at anything else.
So what to expect from Apple AirPods 2 when it comes to audio?
Apple AirPods 2 are for people who like crisp vocals along with details in mids and highs. The earbuds can go very loud hence staying around 60 to 80 is the sweet spot. Listening to podcasts on the go or in your comfy zone feels real and in person. Even classical music hits differently on these.
It offers so much detail that you will actually enjoy the music. Since I am a bass-head, I keep going back to my OnePlus Buds Pro 2 (review soon) but Apple AirPods 2 is not that bad either.
Out of 10, we will give it 8/10.
Call Quality (8.5/10)
Nowadays, call quality is among the top requirements. Be it chatting with friends or family or being professional with clients, I personally prefer to wear TWS earbuds for calls. Because earbuds are convenient and can be worn for long hours of calls.
So where does Apple AirPods 2 stand for calls?
In simple words, it's good. It can help you achieve the task be it formal or informal. Unlike other earbuds that sound distant from the mic, Apple AirPods 2 is totally different. Maybe because of the long steam?
The final output doesn't sound robotic and is also free from artificially improved like many TWS with noise isolation. You ultimately get voice input which is almost similar to talking on the phone.
But!
Things get a little bad if you have noise or disturbance in close range. It will sound "just like it is". So outdoors will be a problem if you are in a public area. Whereas in the office or silent environment things are very good. So for indoor use, we recommend Apple AirPods 2 but when outdoors watch out for ambient noise as it will be there.
Here are some of our best choices of earbuds that can cater to your calling needs. These cost around the Apple AirPods 2 or cheaper.
So for call quality, we would give it 7/10.
Battery Backup (8/10)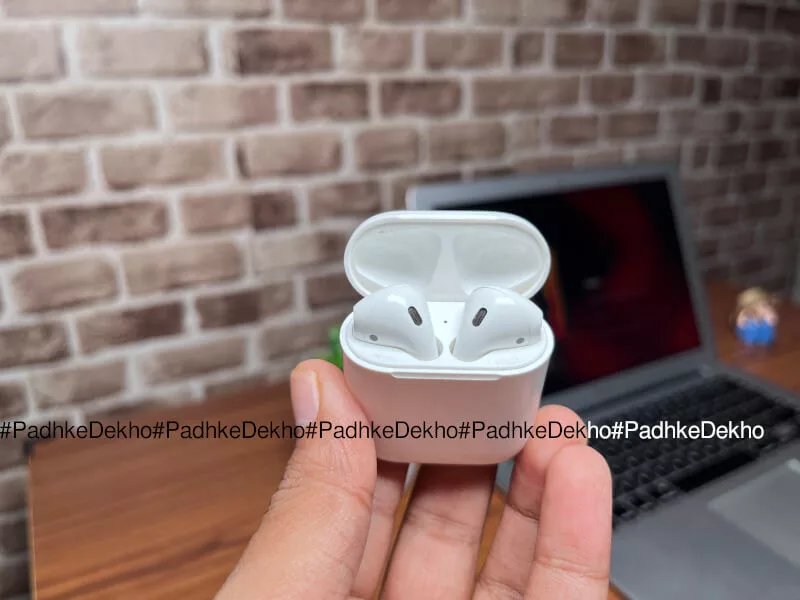 if you are coming to tws earbuds after using on-ear or over-ear headphones with massive batteries like 60 to 70 hours, will find the next statement confusing.
Apple AirPods 2 can provide you with continuous playback of 5 hours and total playback of 24 hours. How's that possible? Well, let's talk about that!
Both earbuds have a dedicated battery that lets you use the earbuds for hours without needing to charge them. While many brands mention their battery size Apple is different!
So let me break down our 2-year-plus experience with it.
On one single constant use, you can expect anywhere between 3 to 5 hours. This totally depends on the volume you are listing to and the calls you are taking. If you stay around 60 to 80 percent then you can hit the 5 hours backup without any issues.
And once the buds are low on battery putting them back in the case for just 15 minutes can get you around 2 hours of backup.
So let's say you are done watching a movie and put the buds back in. While you are working your day out, the buds are charging for your next use! That's how you will get around 24 hours of total playback.
What about the charging time?
Charging time depends on the charger used. If you'll use Apple's 5-watt charger it will take a little over 1.5 hours. If you'll use the 20-watt charger then the time will be dropped by another half an hour to about 1 hr 10 or 20 mins.
In case you are wondering, Apple AirPods 2 supports wireless charging too. Just buy Magsafe wireless charger or any Qi-certified charger.
This battery backup is fine as it supports fast charging and quick charge by 25 minutes to 2 hours of additional usage. And even after 2 years, I am still getting around 2 to 3 hours, which suits my needs.
So for battery backup, we would give Apple AirPods 2 an 8/10 and charging time about 9/10.
Should You Buy Apple AirPods 2 in 2023? Alternatives?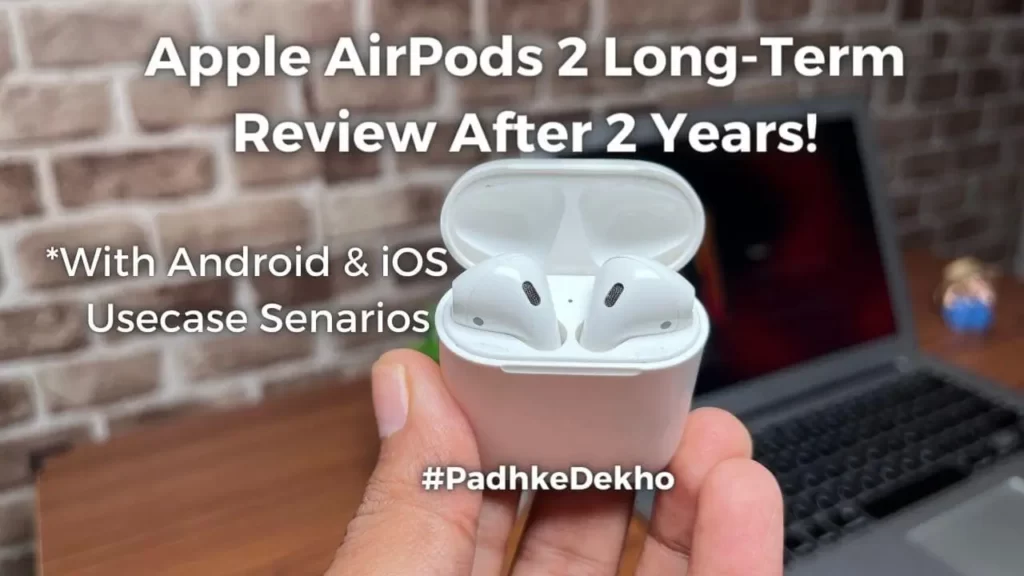 It all comes down to the verdict of whether should you buy Apple AirPods 2 or any other audio gear around that price range. Let me break out the summary.
If you have other Apple Products like the iPhone, iMac or MacBook, or iPad then Apple AirPods make sense.
But which variant?
If you are workout centric person and need the best active noise cancellation on any TWS then you need to have Apple AirPods Pro. It's for you and totally worth it.
If you are casual or light fitness motivated like jogging or walking or even treadmills, then Apple AirPods 2 or the 3rd generation is good for you. But if you need more features like spatial audio or dynamic head tracking then Apple AirPods 3 is the way to go.
Ultimately, Apple AirPods 2 is not a bad option either its a good package with great features, practicality, and a slightly better price proposition if you put it that way.
But if you have an Android smartphone and a PC/laptop running Windows or Ubuntu then it will not be a good option as many features will not be supported.
For Android, you can check out the below table. All the earbuds here have been used by our editors and are totally worth it.
It's a Wrap, Guys!
There you have it, folks, it's our few cents as Apple AirPods 2 long term review. If you have any questions or queries about it or any audio gear then feel free to ping us on below given social accounts. We love to help our readers.
If our review helped in your decision making then please share it with others and help them choose better!
Also, you can use the Amazon button below to check the latest price. Buying any product using You can also support original and genuine local content at no additional cost to you. Thanks for the support so far!
Related Articles!
Apple AirPods 2 FAQ
Does Apple AirPods 2 Worth it?

Yes, Apple AirPods 2 is totally worth it. I've been using these for 2 years plus now and it's going strong with time. But do thick-wise if your primary phone is an Android. Here's our long-term review that can help in your decision-making.
Does Apple AirPods 2 Have ANC?

No, Apple ASirPods 2 does not have ANC.
Can Apple AirPods 2 Pair With Android?

Yes, Apple AirPods 2 can pair up with an Android phone or even Windows laptop but many features do not work. Here's our detailed review after 2 years or use that you can check out for better decision-making. Tap now!
Got Feedback For Apple AirPods 2 Long-Term Review?
Please reach out to care@padhkedekho.com. We'd see what we can do.