if you have just booked a brand-new iPhone 13 or received one recently then you are at the right spot. Because below are the 5 Best iPhone 13 cases under 500 Rs that we bought and are totally worth it.
Since my primary phone is an iPhone 13 I keep buying and trying new cases. We reached this conclusion after testing more than 10 covers. So we are confident, these are the 5 best iPhone 13 covers under 500 Rs that you can buy from Amazon.
So without anything else, welcome to PadhkeDekho. if you are new here, we buy tech products and accessories use them for at least a month, and then publish our genuine take on the product. This helps our readers with added value that helps in decision-making instead of hyping or sales pitches!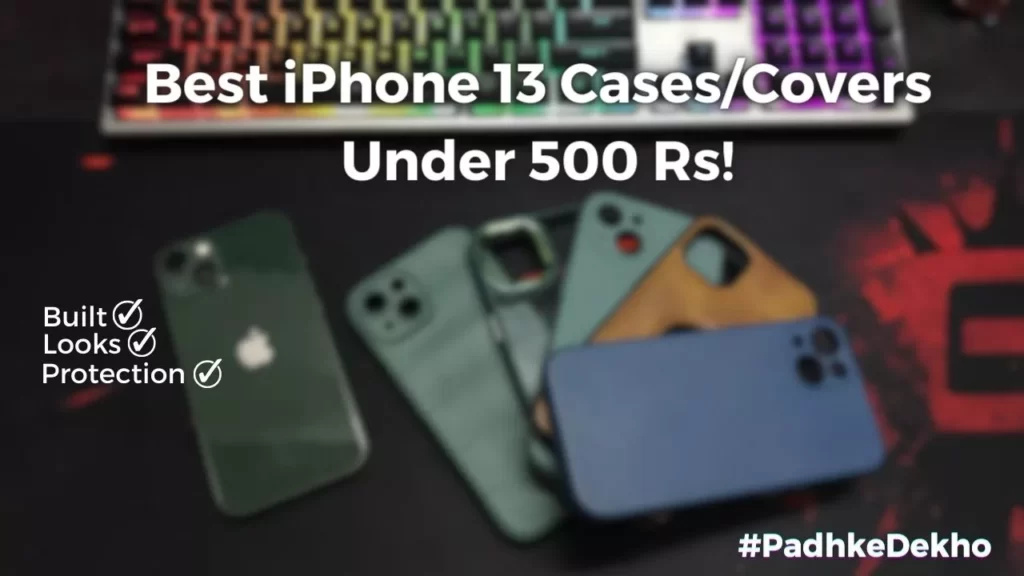 As a support to us, you can check out the products from the Amazon links in this article. Buying anything using the links, might help us earn a small commission from Amazon at no additional cost to you.
With that said, let's have a look at the first case.
#1 Solimo iPhone 13 Cover (Best; Tough & Grip)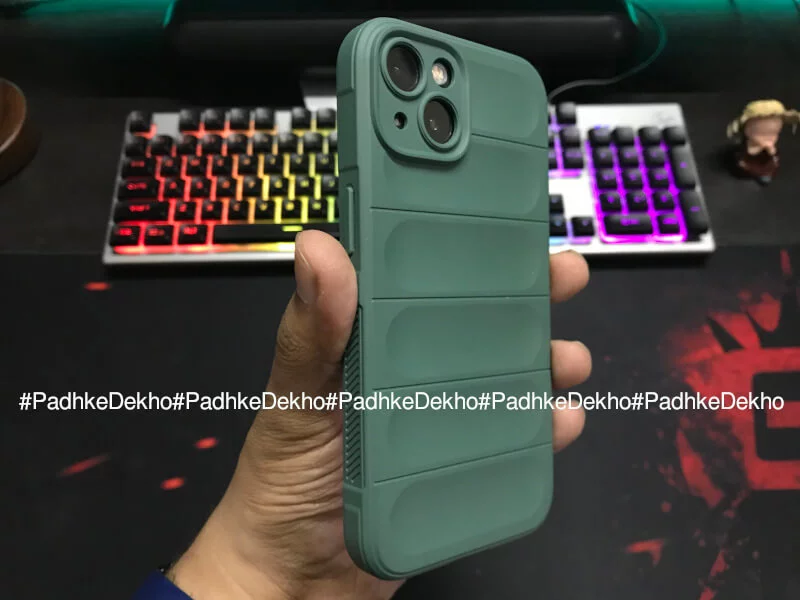 Built Quality & In-Hand Feel
This budget case is made up of TPU which is the strongest form of plastic. The overall construction is solid and there are no panel pressing or uneven gaps when the case is applied.
The buttons are quite soft and you will not need to press the buttons harder to be registered. You'll get a click-ly feeling upon pressing.
Usually, budget cases have rough and sharp edges that you feel near the charging port, speaker grip, and even while holding the case. But you will find none of these things in this case. For a price under 300 Rs, this is by far the best case you can buy if you are looking for built quality and comfort.
Looks

The cases which are designed for protection and grip are not the best-looking ones. Somehow, this case also has a design language that is unique in its way.
On both sides, you get tilted lines which feel good and also enhance the grip. It's quite evident when using outdoors in the scorching heat. On the rear, is the "ripple effect" which not only looks good but helps the finger get a comfortable spot.
You can buy this case in 6 amazing colors. We went with green as our iPhone. Solimo iPhone 13 cover is available in Black, Dark Green, Lavender, Plum, Red, and Sapphire.
Protection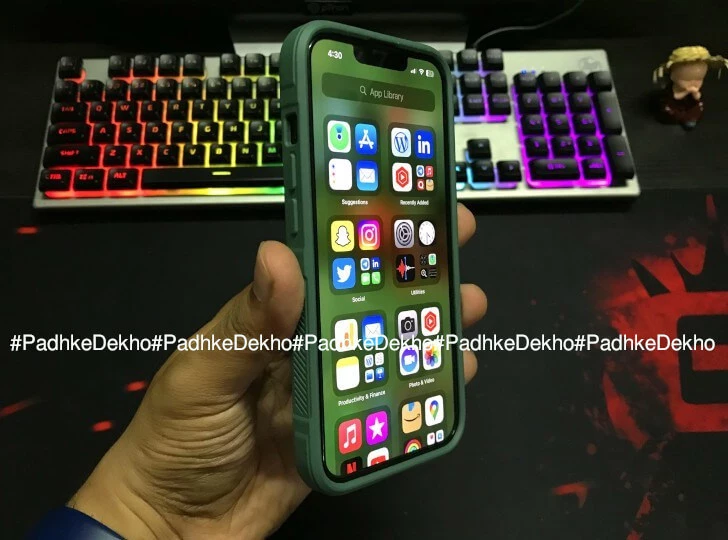 The case is designed keeping protection in mind.
Let's have a look at the camera cutout, trust me, this is the first thing I look into when checking out a new case. Since cameras on iPhones are protruding outwards, keeping them against the table or glass surface can lead to scratches.
With this case, you can be stress-free and enjoy the way you wish to use your phone. Why? First, you have a little bump that covers the camera lens and then you have a square cutout that protects the camera module if you wish to put it on the table facing the screen up.
What about the screen and body?
The case extends lip from all sides of the screen which can protect the phone from a face drop fall. Also, all 4 edges have extra rubber protection. This means if the phone falls on the edges, then you will witness no damage.
Under 500 Rs, this is bar far the best case for protection and grip that you can have on your iPhone 13.
Cutouts
The cutouts are precisely done; just have a look at the camera module and how well it snugs in the cameras and flashlight. Though there is no Apple logo cutout, the double or triple tap works well. The charging port cutout and alert slider are also well done.
Unfortunately, there is no lanyard cutout. if it means a lot to you, then check out Egotude, PIKKME, and Mobistyle are the best options for you.
#2 Egotude Soft Slim Case For iPhone 13 (Protection While Being Slim)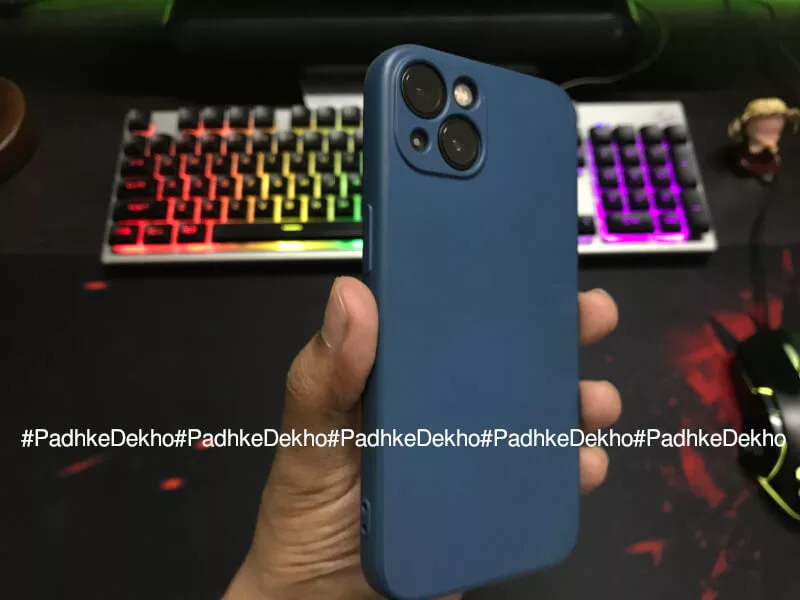 Built Quality & In-Hand Feel?
Egotude was the first case that I bought as there were so many recommendations from the peeps who have iPhone 13. And it stands unique for its price.
The overall build is soft TPU which is not liquid silicone gel. This seems normal but trusts me this is so easy to put in and out of the pocket without bringing the jeans fabric out! On top of it, the case is strong and there are no hollow spaces inside the case. You will not find a single squeaking while pressing the case.
Buttons have a similar story too. They are soft to the touch and a little press will be registered. Certainly lesser than the Solimo case that we talked about in case 1.
The in-hand feel of the case is very premium one can easily think of it as a 500 to 600 Rs case. The best part about the case is the slim form factor and the soft touch feeling all around the case. With this case, you can easily use your iPhone the long as you wish.
if you have a habit of using the phone while supporting it with your pinky finger then you will love this case even more. The soft-touch does not bite and even the speaker grill does not take away the comfort on offer. Out of 10, I would give it the best marks for comfort.
Looks
In terms of design, it's a decent one not that fancy per se. if you don't like the Apple logo cutout then this is going to be a good option. You can disguise your iPhone. Sure, the vertical camera module can give a hint of iPhone 13 or 14. But still not 100% given out.
Since it does not have any texture or extra protection bumps the case feels lightweight and slim in the pocket. Which makes it desirable for someone who appreciates compact design.
Egotude soft slim case is available in three colors; Blue, Black & Grey. One thing to like here is the price of all the colors is the same at the time of writing the article.
Protection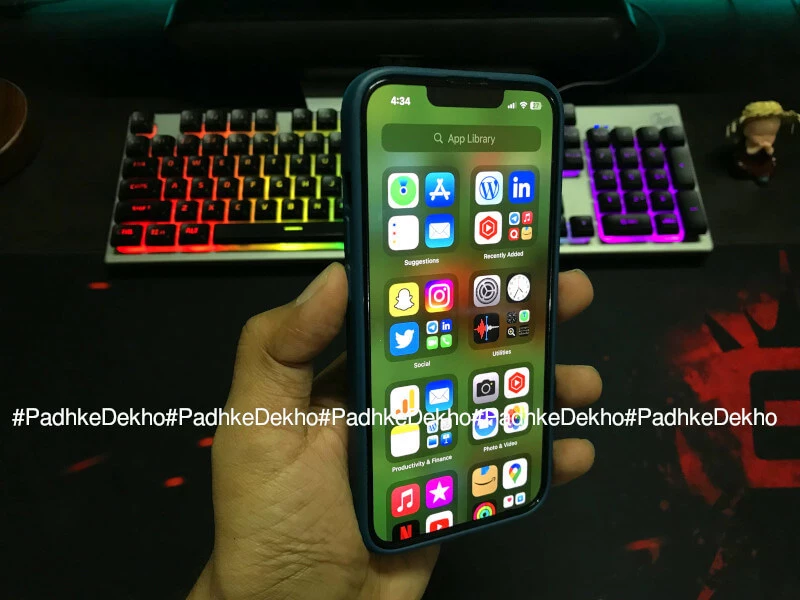 With this cover, you can expect a decent amount of protection too. To begin with, the camera module is fully covered, unlike other cases where just a cutout is given. On top of it, the camera casing is a little elevated which means the camera lens will not rub against any harsh surface.
Another thing that works for protection is the microfibre cloth underneath the case. This also helps during falls but it primarily prevents your phone from getting scratched while you are putting/removing the case.
For the screen and side edges, the lip is raised all around the casing making it a little immune to damage during face fall. But if you need a tough body that can withstand falls and rough handling with all-around protection then we'd recommend checking out the #1 Solimo case.
Cutouts
The cutouts are well done in this case. Be it the alert slider & the charging port. Additionally, you also get support for attaching a lanyard for added security from snatching.
You will not find any uneven surfaces or sharp edges. Which is a good thing keeping in mind the price. This iPhone cover feels premium or at least double the price.
The speaker grill is different on this one. Instead of a big cutout for the grill, you get cutouts that are precisely done with attention to detail. This adds more comfort when you'll be using the phone while holding the phone with your pinky finger. In case you are wondering about lower volume, then that's not the case.
Also, you get a cutout for a lanyard on the right side that can help you prevent phone snatching. Here are the best options on Amazon that you can check out.
Unfortunately, this one also does not feature an Apple Logo cutout. So, if you need one you can try more cases from EGOTUDE on Amazon.
#3 Mobistyle PC+TPU Guard Back Cover For iPhone 13 (Designed For Looks With Shield in Mind)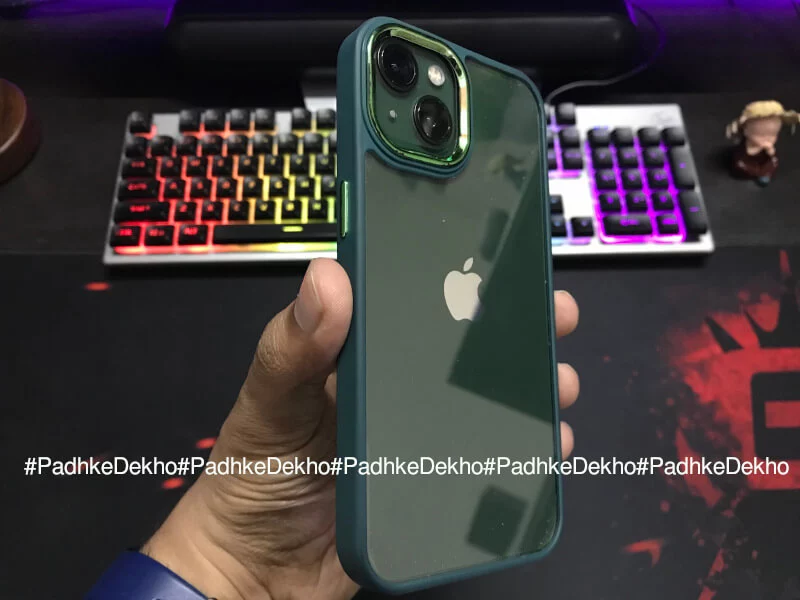 Built Quality & In-Hand Feel
Unlike other covers in this list, this case is different. It has a TPU side panel and plastic on the back. This design element has two points; first, it's strong, and second, it looks good (that we will talk about in a while).
The buttons are soft to press but need a little push to be addressed. To compare, slightly more than Egotude (case 2) and quite less than Solimo (case 1).
Holding the case is perfect. How? First of all, the TPU frame is perfect for grip. Even if you will apply force, you will not be able to bend it. Secondly, the case is sturdy and offers no weak panels or hollow spaces.
The in-hand feel is also good. Since the back is polycarbonate and the sides of TPU material make it comfortable to hold for long hours. There are no sharp edges or uneven markings on the case or even engraved branding which makes it good to hold.
Looks

Like some cases that completely hide the phone's identity and color, this case is different. The back is transparent polycarbonate that can help you showcase your phone's true color.
Also, glossy plastic on the rear gives the feeling of glass which feels as good as your iPhone without any case. So you get a non-case feel while the case is on!
This case is available in all iPhone 13 colors which makes it ideal for someone who likes to match the case with the phone.
There are two main options Metal and Electroplating. if you need a similar case as we showcased in product images, these are the Metal models, not the Electroplating ones. The biggest difference is the glossy frame; if you like glossy frames you can check out the Electroplating options. Otherwise, the Metal one is shown above.
All color options are Crystal Clear, Electroplating Black, Electroplating Blue, Electroplating Green, Electroplating Purple, Electroplating Silver, Metal Black, Metal Blue, Metal Dark Green, Metal Pink, and Metal Purple.
Not just that the side TPU panel is also different. It offers buttons in glossy color which highlights the buttons and takes the design game to the next level. I've been using it for 6 months on and off and the case has not turned yellow which many bumper cases go. So do keep that in mind.
Since the back is plastic it will attract more fingerprints so you might need to clean it frequently.
Protection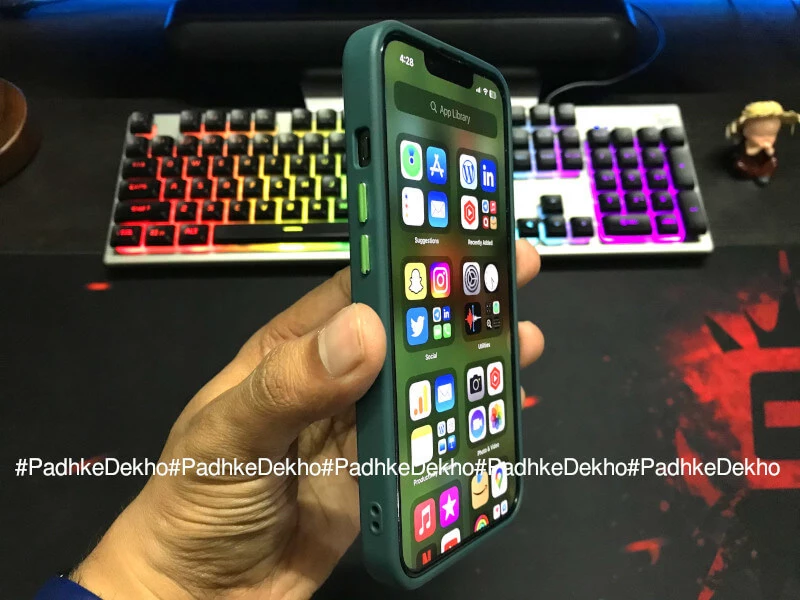 With Mobistyle PC+TPU Guard Back Cover, You get all the protection with a design statement. The camera module is raised with a plastic frame (I don't know why the brand says it's metal). But anyways, it's big and completely protects the camera module from touching any hard surface.
Just like that, The lip is extended all around the display to prevent damage during falls. Though it's not as extended as the #2 Solimo or #4 PIKKME case, does the work. You will be confident rocking this case with design and durability.
Cutouts
The port cutouts' quality is very good. Be it the camera module or the speaker grill on the bottom. This makes it quite a comfortable iPhone 13 case/cover under Rs 500. Because if your pinky finger is in comfort then only you can use your phone to the maximum!
Another good thing, in this case, is the provision to connect a lanyard. This means you can prevent your phone from being snatched!
#4 Pikkme iPhone 13 Back Cover (Luxury Looks on a Budget)
Built Quality & In-Hand Feel
The built is plastic but on the rear and all the side panels, you will find a fake leather texture or PU material. Surprisingly, you will not find any panel squeaking or plastic rattling (which is quite common in local cases from the offline market).
As far as the buttons go, the clicks are clicky and some amount of force is required to register a press. Not very light not hard, it's in between somewhere. Quite similar to case 3.
You will not find any harsh edges that can cut your fingers, however, the bottom bar where the charging socket is the speaker grill plastic could've been done a little better. Secondly, underneath the back, there's no fabric so do get your iPhone's rear tempered done to prevent scratches.
What about Comfort? In-Hand feel?
Since there is an Apple logo cutout, you can rest your index finger there. It somehow helps to hold the phone better. Not just that, the double/triple tap works as it should without a case.
As I said in the built quality, some roughness is there around the speaker grill and the lightning port, hence while using the phone for long hours might give you some discomfort.
Looks
This is the only reason why I put this case in this best iPhone covers on Amazon under the 500 Rs list!
"Wow" is an understatement. From a little far away or in someone's hand it looks as stunning as a case can be. The fake leather treatment is very well done. You even get creases like a real leather case! Be it the back or even the sides look, no one can guess it's a 300 Rs case.
To make this an even sweeter deal, this case comes in three colors; Brown, Blue & Black.
The Apple logo cutout is also well done. If you are an impulsive buyer then do check the Apple logo cutouts in the case. Most of them do not have a proper center cutout. So be a little careful while picking the next case. With the Pikkme case, you can be sure that the cutout is centered.
One more thing, we liked is the PU martial or fake leather does not show fingerprints be it how hot the weather is. I recently attended a function in Delhi and oh boy it was hot and witnessed not a single fingerprint on the back. Though on the front it was totally different!
Protection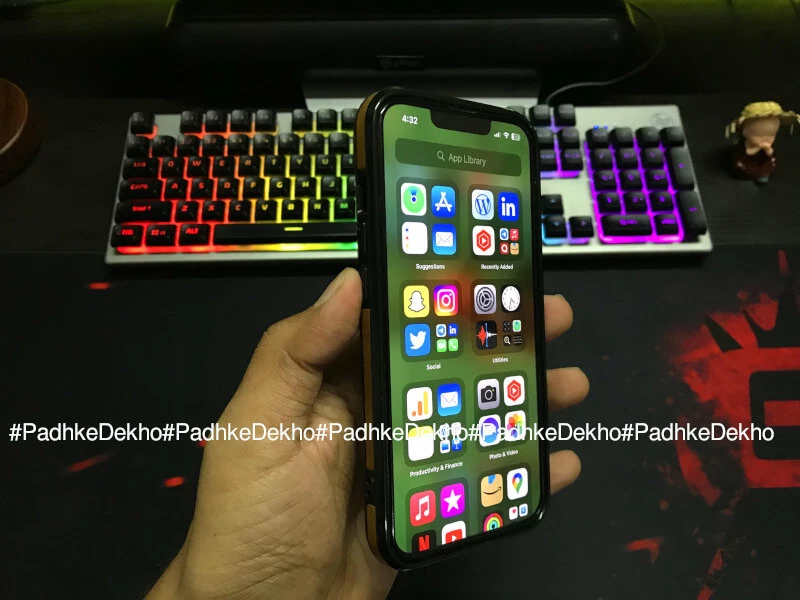 if you are worried about the phone's integrity during a fall with this case, then be a little easy and catch your breath. Though it's not built for protection still you get a good overall package.
Let's first talk about the camera module. In many cases, you will find the camera setup area to be lit up so that the cameras do not touch the surface during falls or just placing on the table. However, this case is different.
It has done the opposite. The PU material is thick as a result it camera cutout is lowered by the fake-leather material. This way it protects it from damage or falls. Very smartly done!
As far as the screen goes, the case has a little lip all around the screen which helps in events of drops. So you can trust this case with light drops.
Cutouts
The cutouts are bigger than many cases out there. Especially the speaker grill and the charging port. The camera cutout and the Apple logo are well done as well just like the alert slider. You also get cut out for a lanyard if you wish to prevent your phone from snatching.
Everything thing is good except the speaker grill and the charging port. These could've been done better.
#5 Mobistyle Liquid Silicon Case For iPhone 13 ( Almost Acual Silicon Feel)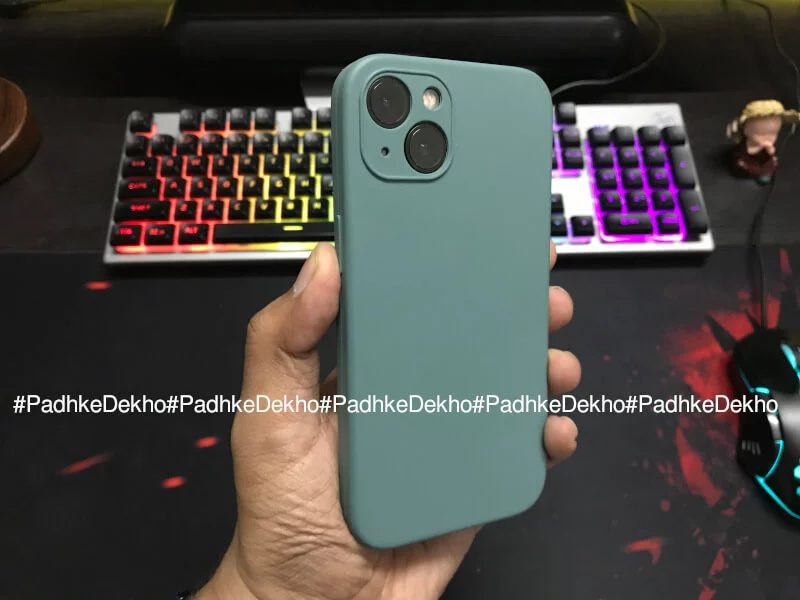 Built Quality & In-Hand Feel
The built quality of Mobistyle liquid silicon is actually "silicon gel" on the outside and TPU underneath. This means the outer material will be soft but the guts are strong. Even if you apply a little force to bend it will certainly fail.
Just like the built, the in-hand feel is quite similar. The case is lightweight & soft which gives pleasure to be used with one hand. The pinky finger and the palm of your hand will hug the case like it's a double cheese margarita pizza slice!
Just like that, the buttons are soft to the touch and easily address pressing. For context, just like in case 2.
So the case is not only durable because of the silicone gel but the soft feeling makes it comfortable to be used too! The bottom part is even softer and more flexible, making it very easy to apply or remove the case.
Looks

Okay here is the thing, this case is not a fashion statement! If you need looks you can check out the #3 PIKKME case or Mobistyle TPU + Plastic Back case.
The Mobistyle liquid design case for iPhone 13 is a simple yet decent-looking case. It's all the same color. Makes it perfect for someone who needs a good quality simple case without much fuss happening in the background. On top of it, the design is slim and the case is quite lightweight.
What makes this case special is the selection of so many colors namely; Aqual Blue, Dark Green, Black, Grey, Pink, Purple, Red, and finally Royal Blue. Just like the #3 Mobistyle PC+TPU Guard Back Cover For iPhone 13, this case also comes in Electroplating color options.
Protection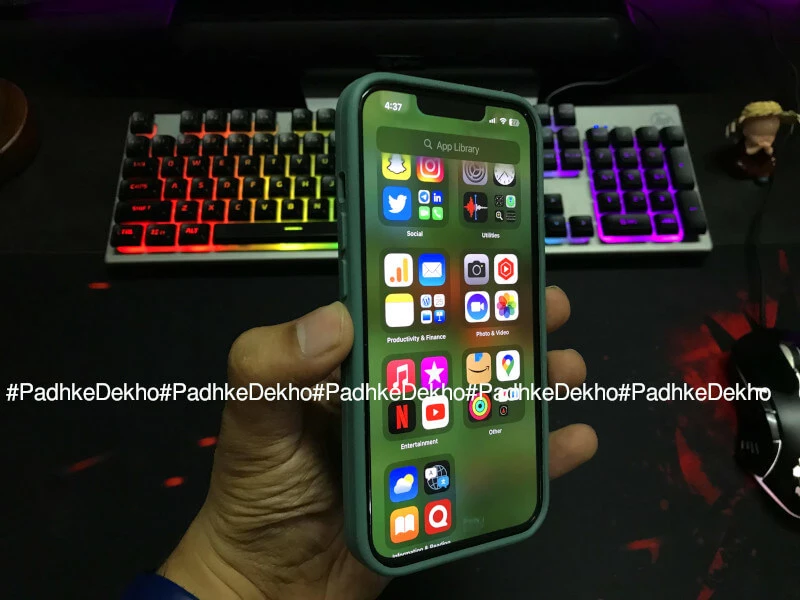 Mobistyle Liquid Silicon Case For iPhone 13 has a "different" design language for protection. Rather than having a big camera lip to prevent damage, they have opted for a silicon gel frame. How well it can protect can be a question. But I've been using it for a month and it has prevented scratches on the camera lenses.
What about the display?
Just like all the cases, you will find raised lips all over the display that can prevent damage on face fall. Sure, it's not as big as the Solimo case but much better than others. If I had to rank it in terms of protection I would give it 2nd position.
Another good thing about the case is the frame; it's silicone but underneath you will find hard TPU protection which means the case will be soft in the hands and though to the ground!
So, if you need protection but do not wish to add weight or thickness then Mobistyle Liquid Silicon Case For iPhone 13 is perfect for you.
Cutouts
This iPhone 13 cover case provides precise cutouts for the camera module with a flashlight and microphone. This cutout is also silicone and soft to the touch.
On the bottom, you get a cutout for the charging port and precise holes to replicate the grill design.
You do not get the Apple Logo and lanyard connect cutout in this case. If you need those, you can check out #Pikkme (case 4), Mobilestyle + TPU (Case 3), or Egotude (case 2).
Are iPhone Cases or Covers Below 500 Rs Good?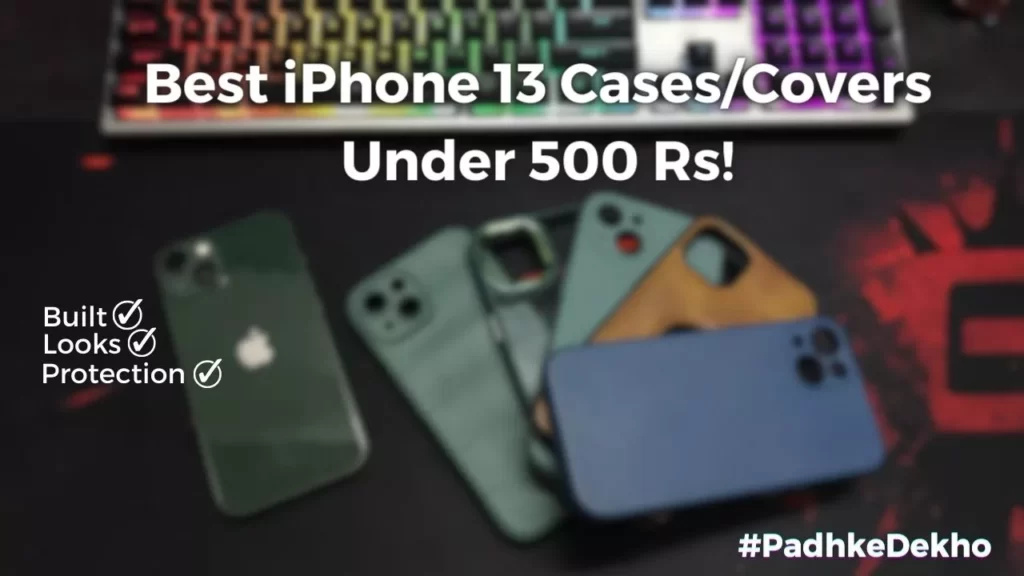 Since iPhones are in great demand, a lot of new smartphone cover makes are storming the market every single day. All these cases for context are from new brands. So coming to your question whether these cases under 500 Rs make sense? Most certainly.
These are perfect if you wish to have tons of cases for different occasions like formal meetings, house parties or weddings, and many other occasions. All the cases in this article and thoroughly tested and one thing is sure you will not need to worry about damaging your iPhone from drops using these cases.
Just make sure, you have good quality tempered glass on the front and the back because repairs are costly!
Wrapping up!
There you have it guys! These are the 5 best iPhone 13 cases under 500 Rs from Amazon. if you have any questions related to these cases or different ones, do comment below or reach us on the below given social handles, and we will help you choose one as per your need.
Did these 5 best iPhone 13 cases under 500 Rs list help in your decision-making? if it did then please share it with others who might be looking for a new budget case for their iPhone. Also, you can support us for free by purchasing any of the cases using the Amazon links on this page. For your convenience, we have added a button below. Thanks for supporting local content.
F.A.Q
Which are the best iPhone 13 covers under 500 Rs?
Under Rs 500 there are many cases available for iPhone 13. We've owned about 10 and shortlisted only 5 which offer well-built and protection. Here's our detailed article. Tap now to learn more.
Are there any good iPhone 13 back cover under 500 Rs on Amazon?
Yes, for under 500 Rs, you can buy many cases which are better than the local market. We've shortlisted 5 cases for you after months of testing. Click now to make a better-informed decision.
iPhone 13 cover case worth it?
Though iPhone 13's front and back are protected by a ceramic shield hence it's quite durable. But being glass, it can get scratched quite easily thus getting a case or tempered protection front and back is better.
Are there iPhone 13 back cover with camera protection under 500 Rs?
Yes, there any many cases with camera protection for iPhone 13. All the ones mentioned in this article can suit your needs. Tap now to choose better!
Got Feedback For 5 Best iPhone 13 Cases Under 500 Rs?
Feel free to contact us at care@padhkedekho.com || We'd see what we can do.