These USB-powered devices can help you connect your pc/laptop to a wireless network. Both of these dongles are from tp-link and can be bought for under 800 Rs. But the question is, which one should you buy? In this TP-Link USB WIFI Adapter vs High Gain Antenna comparison we will let you the pros & cons, Which one should you buy, and our observations!
if you have been a long-time user of mobile hotspots for the sake of the internet on your PC then these two devices are perfect for you. Why? You can finally get rid of making hotspots via USB. It will prevent your smartphone from overcharging and ultimately help your phone have an extended life.
So in this article, we will be testing both of these with far-off wifi on the lower floor and then by making a mobile hotspot that is resting on the same table. We hope this article will help you make better-informed decisions.
With that said, welcome to PadhkeDekho, where we buy tech products; review them and compare them with others to help you make the right decision. We use a product for more than a month before publishing our review.
With that said, let's being with the main question; which one should you buy?
Here's our comparison video that you might like!
TP-Link NANO USB Wifi Dongle Pros & Cons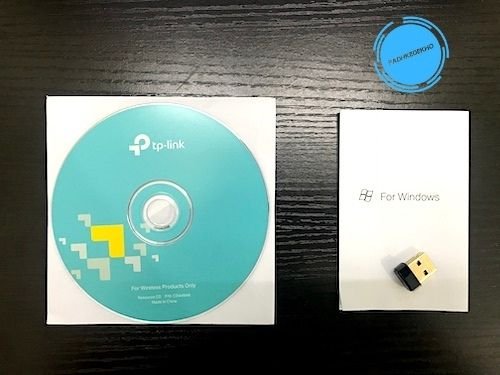 High Gain Pros & Cons
Which one should you buy?
The answer lies in the question; how far will be the device from the internet source? If it's in the same room then you can go with the NANO USB adapter. It's tiny and will not take up much space. For a laptop on the go in the same room, you can also go with the NANO USB dongle.
But if the router is in the next room or maybe on a different floor then you should get the High gain USB adapter or the one with a big antenna.
Will this big antenna help in better range and signal reception?
Let's find out in scenario number 1 where the router is on the lower floor. For the speediest, I will be using the Okla speed test website.
Scenario 1: Testing Wifi Speed Using Far-Off Wifi (Lower Floor)
For the speed test, I've used the Ookla Speedtest website and selected the network which is close to my place (city).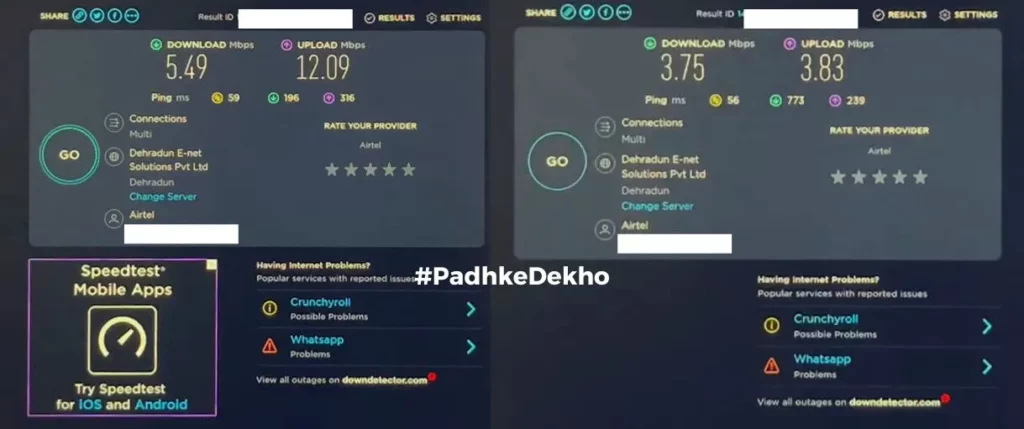 So here are the results. On the left, we have the TP-Link TL-WN722N or High gain wireless USB adapter and on the right is the Nano USB Receiver or TL-WN725N. As you can see the high gain USB adapter gave a slightly higher speed at 5.49 as download and 12.09 as upload.
Since speed is variable in nature, we did the test 10 times and took the highest result value. Hence, if your router is on 1 different floor be it up or down, the TP-Link 150 Mbps High gain USB dongle will give better speed.
Winner:- Scenario 1 winner is TP-Link TL-WN722N.
Scenario 2: Testing Wifi Speed Using Mobile Hotspot on The Same Table
Now comes the second Scenario and it's using a hotspot on the same floor or perhaps on the same table.
Just like in Scenario 1, we did the same. I.e. we choose the closest server and run the test 10 times. And then selected the best speed test results. Surprisingly there was hardly any speed difference.
It's because the internet source is very close to the router and the travel distance is less. This test finds out that if your internet source or router is in the same room or you are using a mobile hotspot in close range then the internet speed will be similar on both the Nano receiver.
Winner:- In scenario 2, both the Nano receiver delivered similar results.
Our Observations With These Two Products
During our 1 month of use, we found the wifi range to fluctuate a lot. It even went almost zero reception where we thought we might lose connection. However, while working with heavy tasks like watching 1080p HD video we had no buffering issue with any of these two. It just shows less wifi range.
Maybe there is some glitch in displaying the correct range reception? I don't know that but speed was fine.
About the internet speed that you just checked. These are from our second studio where we are in a transition. By the time of writing this article, the speed is back to 50 Mbps on Airtel broadband.
Are These Speeds Good?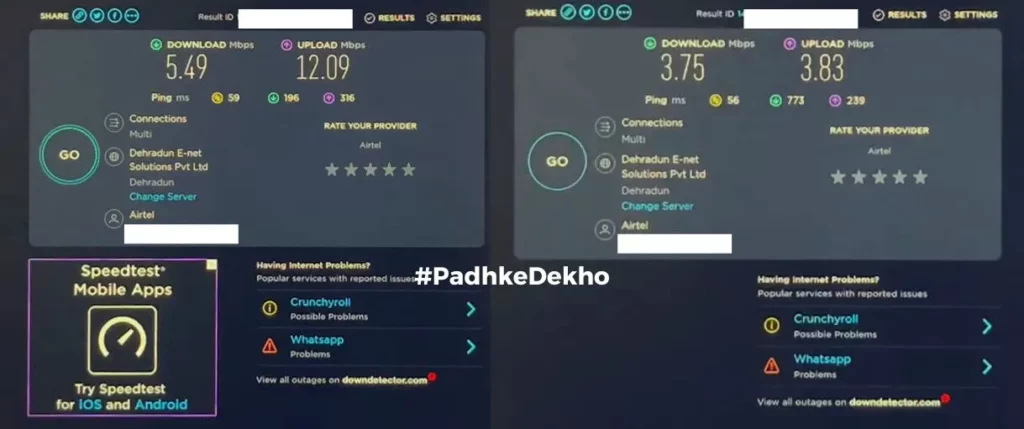 Well, by this looks of it then No!
But there's a catch that you should know. While using the actual products the speed is good. For reference, we uploaded a video on your YouTube channel using the same internet of high-gain USB dongle (IMG-2) and it was up in 20 mins which were roughly 2 GBS. There is no way 5 Mbps can upload a video or 2 GB in 20 mins. It would easily take more than an hour. So speed test results are good for hints not for exact speed.
On the other hand, IMG-2 shows decent results. You can watch any content without buffering. We watch a lot of Netflix and Amazon Prime Video and we never missed the 50 Mbps that our LAN used to give!
So do not be dishearted by the lower speeds. It offers no visible difference if you are a normal user who would be watching content.
Wrapping up!
In this TP-Link TL-WN725N VS TL-WN722N(US) comparison, we've talked about the Pros & Cons, speed tests, and our observations after 1 month of use. We hope you will have found this comparison helpful, if you did then please share it with others.
Got questions? Feel free to ping us any social account given below. We love to help our readers as much as we could.
If you have decided to buy any of these, then use the links in this article. It will help us earn a small commission at no additional cost to you. In this way, you support genuine product reviews.
F.A.Q
TP Link USB Wifi Adapter vs High Gain Antenna Which is better?

if your router is far away or on a different floor then the High gain model is better for you. Otherwise, you can get any of these both are good.
Is TP Link USB Wifi Adapter Better Than TP-Link USB Wifi Dongle?

No, both are at par if the router is close. Otherwise, TP-Link 150 Wifi High gain dongle is better.