Earbuds come in two shapes; Half-in-ear (Like Apple AirPods) and in-ear (earbuds with silicon tips). Similarly, the MFB (Multi-Function Button) does! It's either Touch capacitive or a physical button. For the last 2 years, we've owned quite a lot of TWS earbuds. So it's about time we talk about the touch vs physical buttons debate.
Here at PadhkeDekho, we have owned more than 20 TWS and you can read about those in the review and comparison section of the website. We had a mix of TWS with touch and physical buttons. So it brings the question, are touch controls better than physical buttons? Or it's the physical buttons that are better on earbuds? Or perhaps, which one is good for which circumstances?
With that said, let's being our take on touch vs physical buttons on TWS earbuds.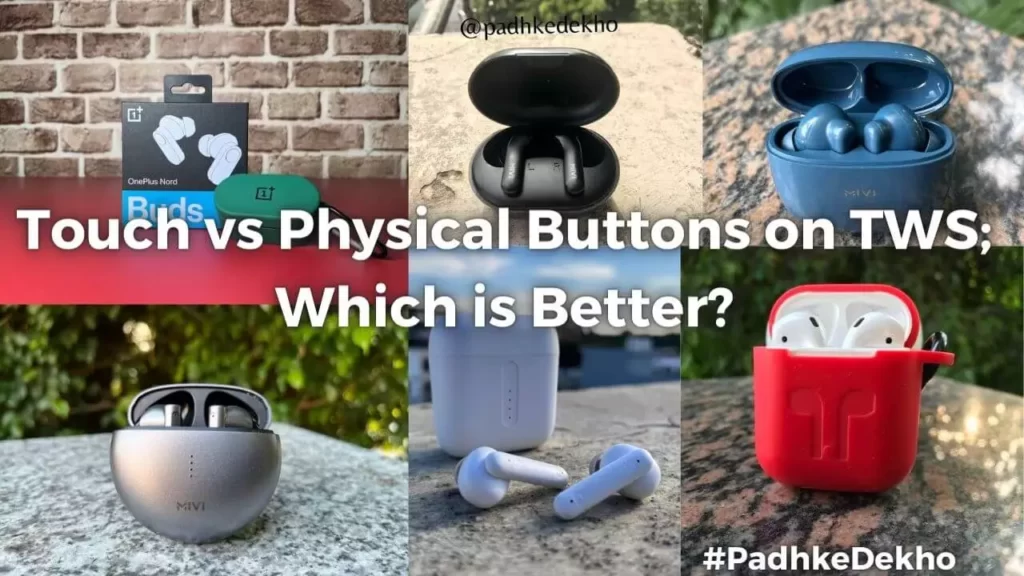 Why Debate About Buttons on Earbuds?
if you are buying your first earbuds or truly wireless earphones, then you need to know this. Earbuds require buttons to control media, special features, and calls. To achieve the tasks, the brands provide controls in the form of buttons for added convenience. So, one should ask commands without using a smartphone.
There are two types of buttons on TWS; physical buttons & touch capacitive buttons. Both of which have entirely different characteristics and the work they work. So let's talk about these separately and in the form of pros and cons.
Let's first talk about the physical buttons on earbuds and the things you should know before buying TWS earbuds with physical buttons.
Physical Buttons on Earbuds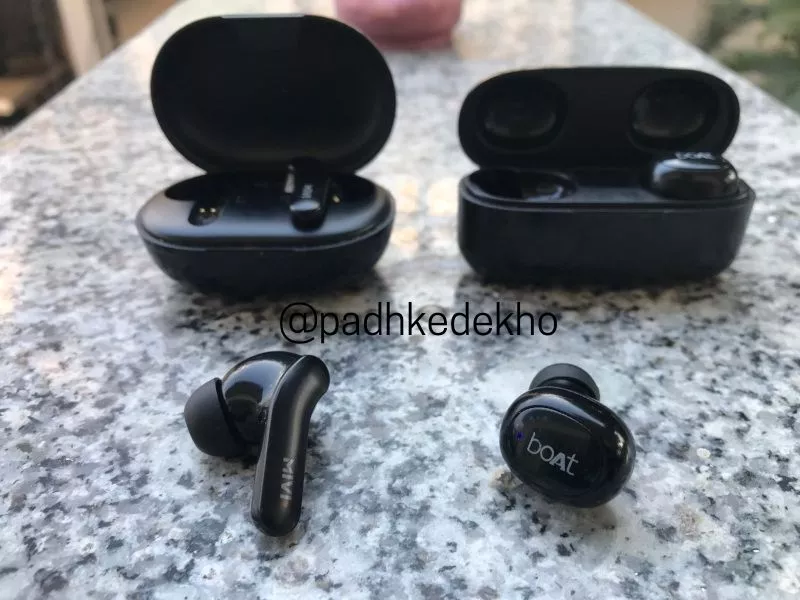 Pros
#1 No Unwanted Pressing: Since the physical buttons require some force than the touch controls, you will not be interrupted or the song plays without your will while wearing or adjusting the buds.
#2 Got Gloves? No Problem: If you are riding a bicycle or working out wearing gloves then you will appreciate the physical buttons as they don't need" touch input via skin".
#3 Responsive: When you press a button it clicks; i.e. it confirms with a ticking sound and moves a little. However, on touch controls things are different. You have to use it for a while in getting used to it.
#4 Hands Are Wet? Sweating? No Problem: Another solid reason for going with TWS with physical buttons is that you don't need to worry about your "touch" not being registered. It happens a lot of times when you watch your favorite show while eating with messy hands and the buds don't register your touch response. Well, this does not happen with physical buttons!
#5 Easy to Reset/Restore: Generally speaking, earbuds encounter little issues like one side earbuds not working, etc. To resolve the issues, the brand offers a particular button key combination to press via the MFB. As the clicks are "clickable" on physical buttons you can hear the exact number and can easily reset your earbuds.
It's also true, that many TWS earbuds with touch controls come with a button on the box to reset it. But again, not all have this feature.
Cons
#1 Pushes Buds Inside: Some budget earbuds' MFB does not register a light press. As a result, the buds go a little more in your ears; it can cause some pain. We really enjoyed Jabra Elite 3 (review soon) and their physical button response which is on point.
#2 Tick-Tick Noise Might Bother Some People: As I visit public libraries and wear earbuds, I prefer earbuds with touch controls. Most physical buttons on earbuds make a ticking noise which can be a lot in a silent area like a public library. So if you are in a quiet environment and don't wish to disturb anybody around you, then touch controls are the way to go.
Earbuds With Touch Controls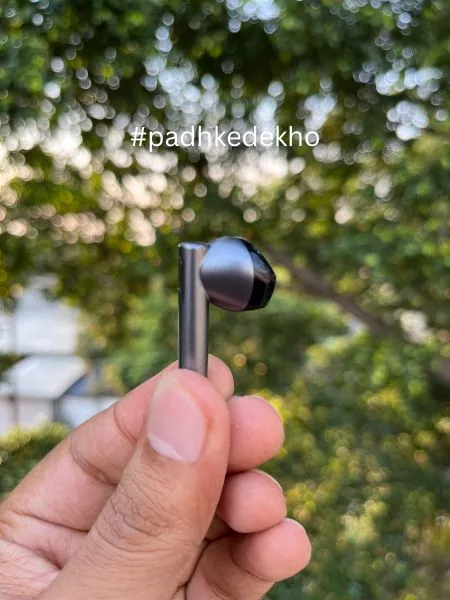 Let's about earbuds with touch capacitive buttons.
Pros
#1 More Controls/Features: The earbuds with touch controls generally have more features. i.e. volume controls, switching to other Bluetooth-paired devices, enabling ANC, etc. This means your touch-capable TWS will offer more features.
#2 No Clicking Sound: Since TWS earbuds with capacitive buttons need touch input they don't have a moving mechanism that makes noise. This means you can comfortably use these at night without disturbing people sleeping next to you. Or in my case, it's the library.
#3 More Life: Since there is no moving part, we are hoping for more life on earbuds with touch controls. Though, this point is not confirmed as our first tws was BoAt Airdopes 121v2 and the buttons are performing well. Just like that, the first touch-based earbud was BoAt Airdopes 131 which is as perfect as it can be!
#4 Touch is The New Norm: A few years ago when the TWS came into existence, physical buttons were on every brand's list. But sooner brands adopted touch controls and now most of the earbuds come with it. We take it a positive because touch controls do add convenience. Surely not always as the cons can tell you!
Cons
#1 Afraid of Little Water!: Just like smartphones, earbuds also come with water resistance. As some water on your finger or the fingerprint reader on your phone makes it unresponsive, earbuds behave similarly! So will need to dry your finger or wipe the water clean on the sensor.
#2 Takes Time Getting Used to: When you'll use any TWS it takes time to get used to the controls. And to be precise where particularly the touch panel is. Whereas on physical buttons you have a bigger surface area to compensate for a big button where generally the branding is done.
#3 Unwanted Commands: if your earbud offers a perfect fit, you will not witness this. But if your buds lose grip or are a little loose then be ready for unwanted commands like playing or pausing a song. Because when we adjust the buds we apply a little touch and the buds register it as a command.
So Now You Know The Difference; What About The Best Options of Both Worlds?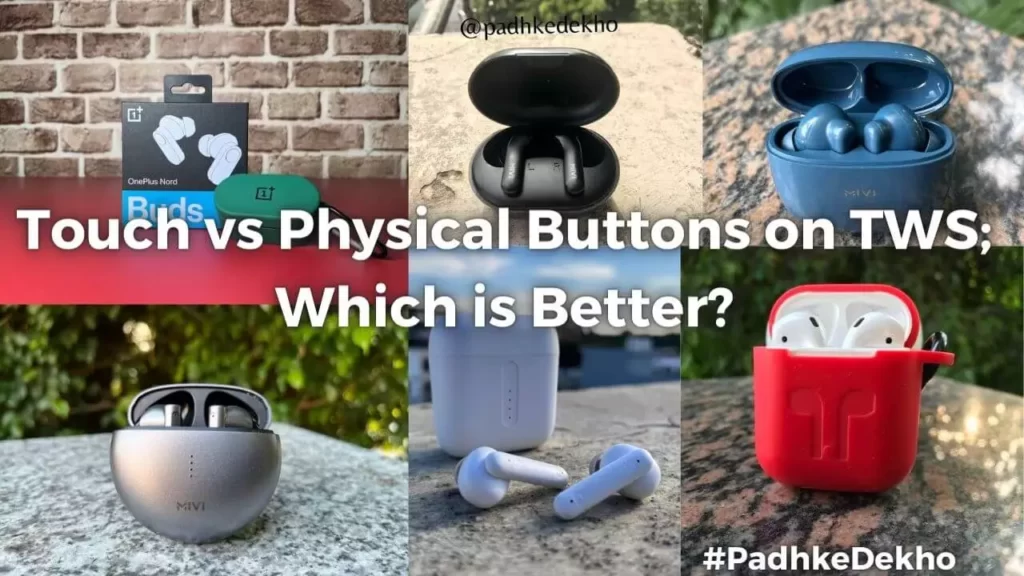 Best Tws With Physical Buttons for Under 6000; Best TWS with touch controls under 4000 Rs.
Wrapping up!
There you have it, folks! Here we have explained the differences between Touch vs Physical Buttons on TWS. This article is written with our experience with 20 + earbuds. So do keep that in mind. If you have any questions or queries then feel free to ping us on the given social accounts we love to help our readers.
And if this article helped in your decision making then please share it with others who might be looking for valid differences between touch vs physical buttons!
F.A.Q
Which is Better; Physical Buttons or Touch Controls on Earbuds?

Both types of buttons have their share of pros and cons. We've used more than 20 earbuds and this is our opinion. Click now to learn more.
Does Touch Controls Work With Wet Hands on TWS Earbuds?

Though earbuds offer some water resistance, they do miss registering touch if your finger or the buds are wet.