16 September 2020 marks as the iOS 14 release date. Just like the rest of the world, we were quite excited about checking out iOS 14 features. While playing around with the iOS 14 new features, we have prepared the iOS 14 best features list for you!
The features that are listed below will come handy in your day to day lives. So without saying much, let's get into the list and check out how they are going to save your time!
Best iOS 14 Features List
1. Widgets
The introduction of widgets on iOS is a welcoming addition. Just like on Android devices, now you can take advantage of a live preview of some applications on the home screen itself. The best part about widgets is that you get real-time updates without opening a particular app personally.
At the moment there are limited widgets that are supported, however, on App Store you will start seeing customized widgets on your iPhone soon!
There is no doubt Apple is late to the party but they have implemented the finest versions of widgets that works better than some of the Android phones in the market.
To add widgets on your iPhone's home screen you need to follow a few steps.
1. Tap and hold the empty slot on your screen for 3 seconds. Then on the top right corner, you will see a (+) icon, press on in. On the next page, there's a bunch of widgets to choose from. Moreover, as per your need, you can search for a particular widget using the Search Widgets bar.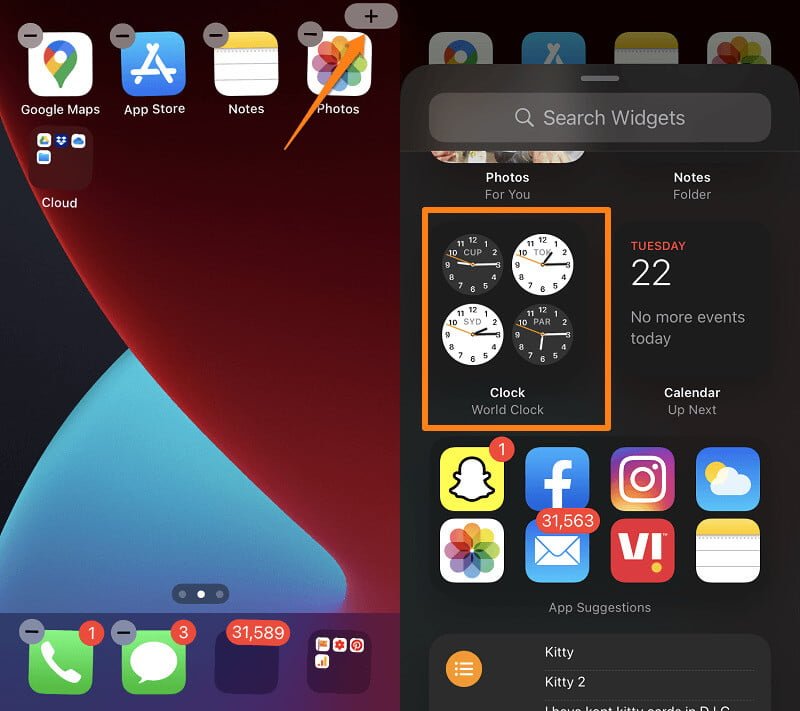 2. Once you have selected the widget that you need, press on it. After pressing you will see a few options for the widget in different shapes and sizes ( marked in yellow below). Tapping on Add Widget will place the widget on the free space available on the home screen. You can change its location by pressing and holding for a few seconds.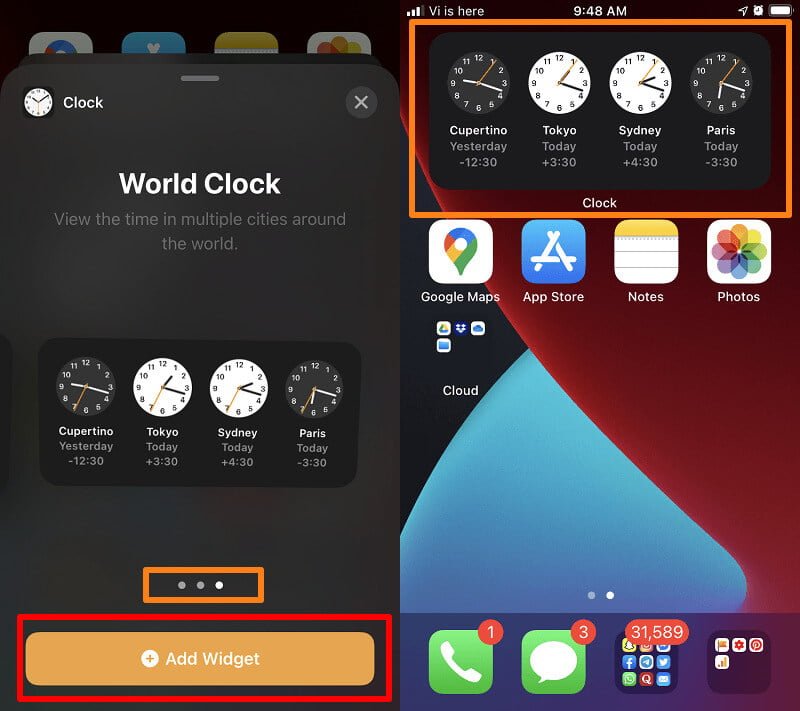 2. Green And Orange Notifications On The Status Bar
The best iOS 14 feature is the Green and Orange dot on the status bar. With those notifications, you will get to know if any particular app is using the microphone or camera or both of your iPhone.
As both the colors are different, they offer different sets of attributes so that you will know what the app is using.
If an app is using the camera and most likely a microphone with it then you will see a Green dot on the status bar.
In our case, while we were using Snapchat we got a Green dot on the status bar. Snapchat uses both the microphone as well as the camera while posting a story or doing a video call. The same way, when you'll make/receive calls on your iPhone then you will see an Orange dot on the status bar.
It is a useful feature to keep an eye on apps that access the mic/camera on your iPhone. So if any app in the background accessing your iPhone camera/mic then you'll get to know about it. Moreover, in the action center you will also get to know whether a mic/camera or both have been used in a while.
3. Banner Call Notifications
It is annoying when you are doing something important on the phone and a call arrives that you can't accept at the moment. Because of the full-screen caller ID, you can't continue with your work. The only option is to either cut the call or wait for the call to disconnect. Well, guess what, Apple has finally implemented banner call notifications to ease your stress!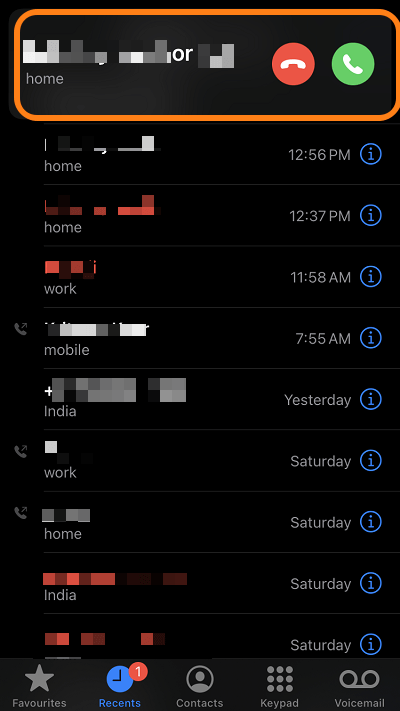 This feature is available on Android phones for quite a while now, and it's great that your iPhone can do the same, though slightly improved. With this new call alert feature, you will receive a banner like notification to allow or reject the call. Furthermore, you can also reject the call by swipe up the banner notification.
Since you will be able to access the screen it will allow you to continue what you were doing rather than waiting for the call to end.
For this feature to work you will need to be in an unlocked state. If your iPhone is locked then you'll receive the same full-screen notification on your iPhone.
4. Limit Photo Permissions On iOS 14 And How To Enable It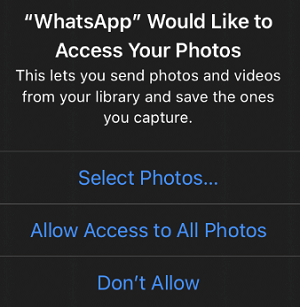 Earlier on any iOS versions when we used to allow app permissions to access photos, then the app could access all the pictures on the iPhone. If you had to share a few pictures with people who don't use iMessage then allowing photo permission was the only option on 3rd party apps. However, now that's changed.
On iOS 14, you can grant access to limited photos on the apps like WhatsApp, Instagram, etc. So if you allowed only 5 images then the particular app can only access those images. Nothing more nothing less! Thats why, this feature puts itself on the iOS 14 coolest features.
If you trust the app, then you can Allow Access To All Photos. But let's say you want to allow a few photos to be accessed by WhatsApp, then you have to do the below steps.
When you'll try to send a picture a pop up asking for permission will come. Tap on Select Photos… From the library you can select the images that you want WhatsApp to access. After selecting photos, press Done.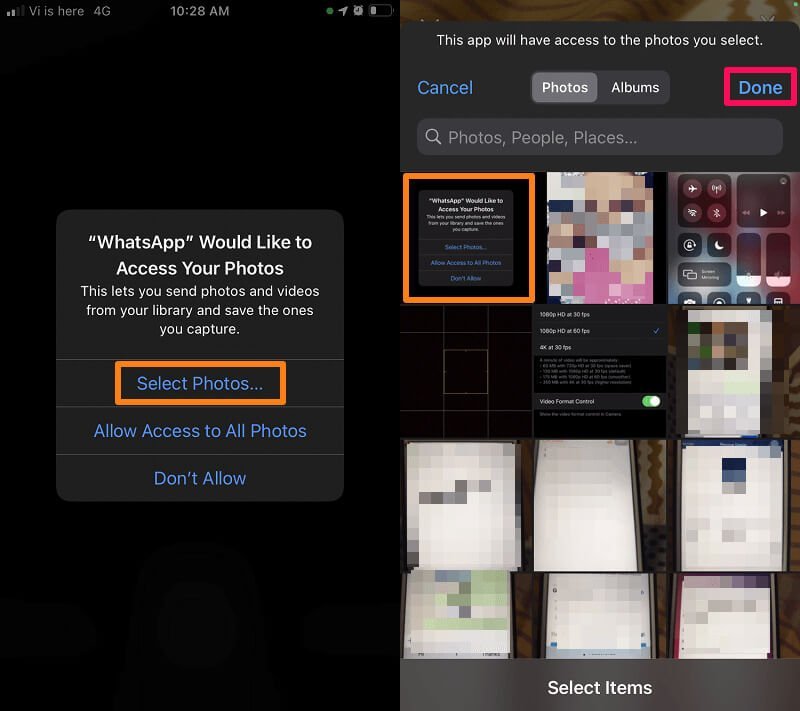 2. Now whenever, you will be sharing images using WhatsApp the only allowed pictures will be shown.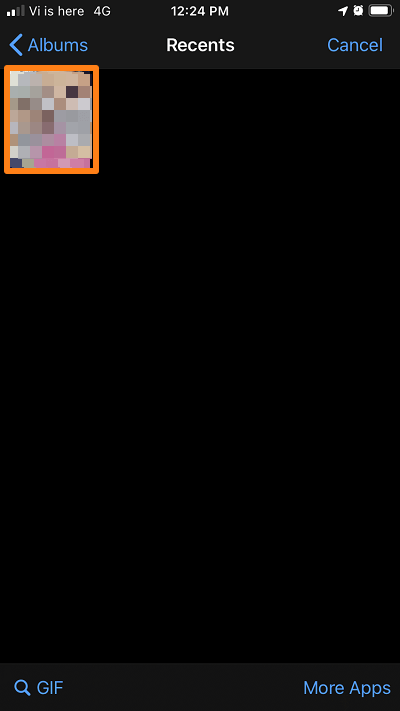 3. If you want to allow more images, then you'll need to visit Settings and make a search of Photos. Then tap on Photos under Privacy.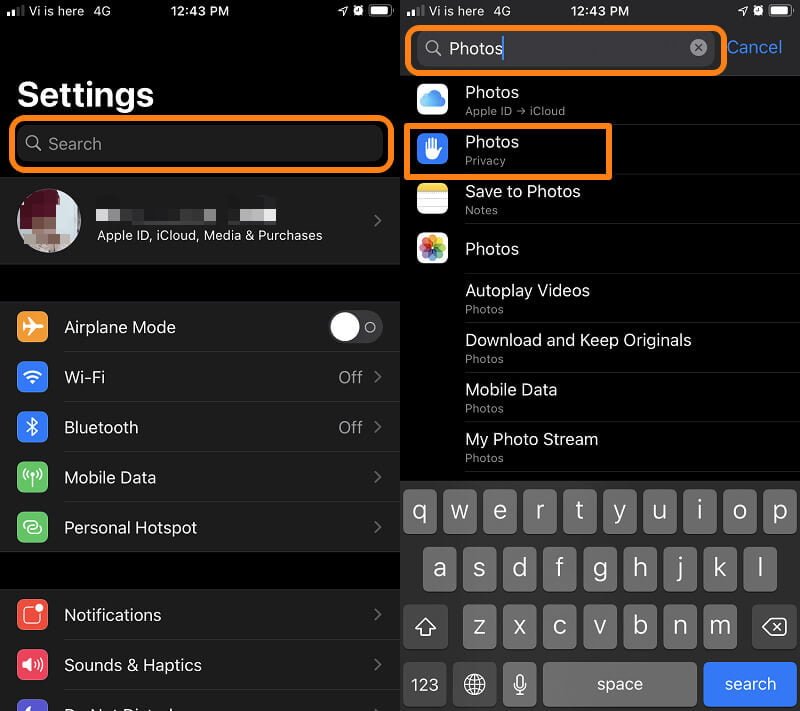 4. In the Photos section, you'll need to tap on WhatsApp. Under WhatApp you will find Edit Selected Photos. Tapping on it will allow you to add new photos to be shared using WhatsApp.
5. Changing Video Resolution From the Camera App
Yup! This simple feature was available on the top-end iPhones running iOS 13.2 for a while now and finally, it's available on the likes of iPhone 7!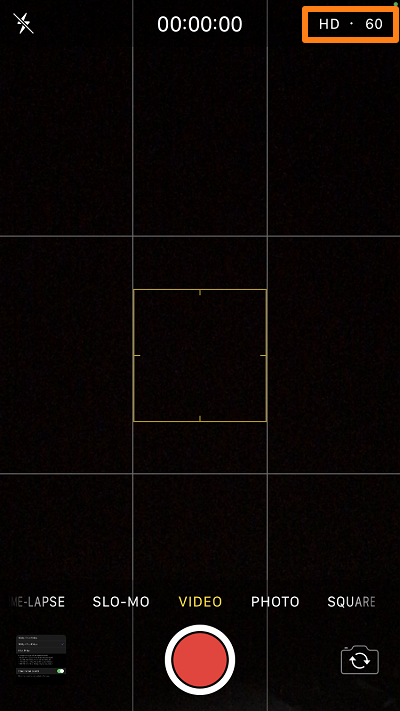 With this feature, you will be able to change the video FPS and the quality between HD and 4K without going into the iPhones Settings. It will save you time and let you take control of the video and its quality.
To enable this feature, follow the steps below.
1. Open Settings and head over to Camera. Once you are in the Camera settings, select the Record Video option.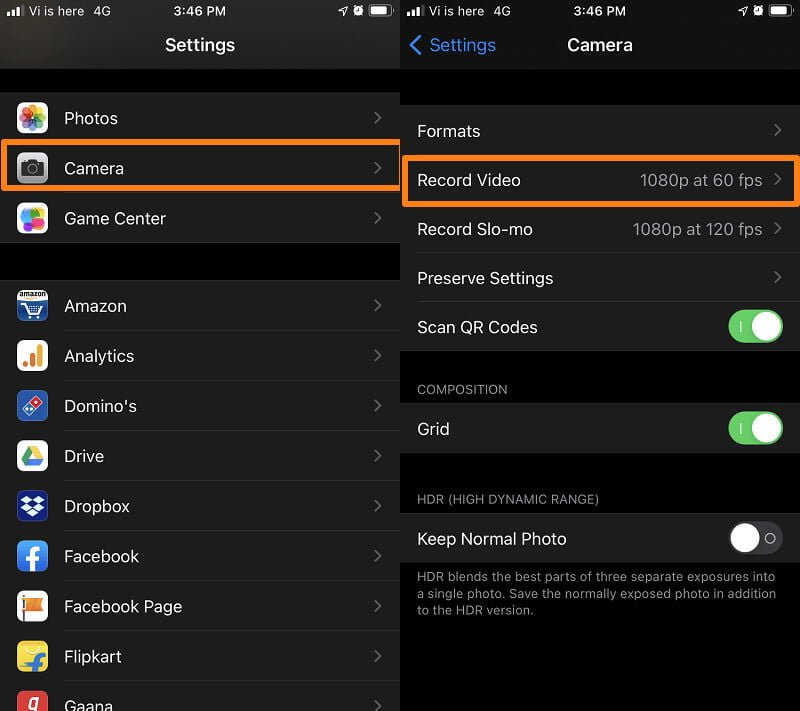 2. In Record Video option, toggle Video Format Control.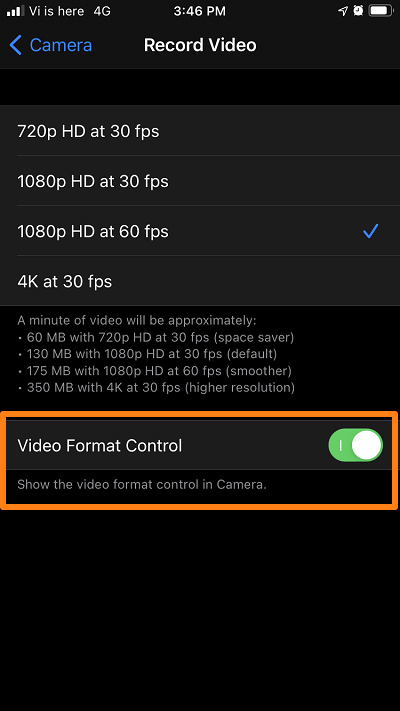 6. App Library
App Library is just automatic folder creation of apps right? Well no! There A LOT to talk about!
As you can see in the above picture, applications are grouped based on their "nature/type". For instance, in the Social folder, you can Snapchat, Facebook, WhatsApp, Messenger, etc. So it's not some random like group creation.
Secondly, tapping on the App Library will bring the apps in the list view, the first time in iOS history! The apps are arranged alphabetically. You can swipe up and down to search for a particular app or to ease your searcing you can use the alphabetical slider.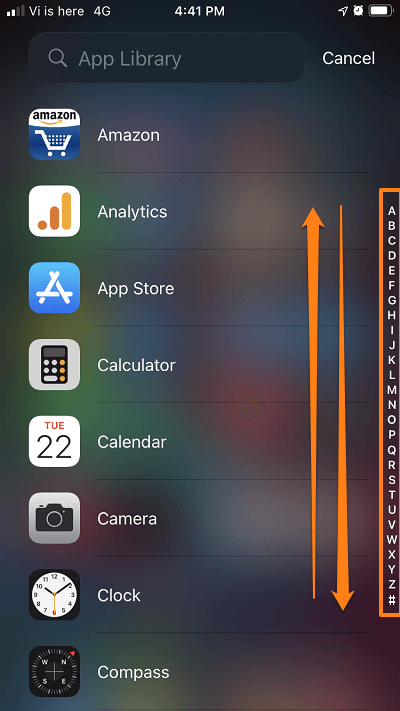 Another cool feature in App Library is to keep apps and notifications of the same in the App Library itself. By doing so, your recently installed app will not be shown on the Home Screen letting you have the minimalistic interface you always wanted!
The apps will be hidden from the home screen so all the notifications for them can be checked in the App Library. So to achieve the above functionalities you have to workaround in the settings. Let us tell you how!
1. Head over to Settings and perform a search of "Home". Select Home Screen from the options.
2. In the Home Screen settings, tick on App Library Only and under NOTIFICATION BADGES, turn on the Show in App Library toggle.
7. Free Language Translator
On the App Store, you can find numerous translators (free/paid). And most likely you might be using Google Translate to make the ends meet. There's nothing wrong with Google translate, however, it feels great when you get a predefined software that works flawlessly.
First of all, it's an ad-free experience. Secondly, the interface is practical, and no-nonsense anywhere can be seen. Switching between languages is very easy. As per your convenience, you can either speak or write your messages. The same will be translated into the target language instantly.
Currently, the Translate app supports 11 languages that can be downloaded for offline access. Which is great when you're not having Wi-Fi or cellular services.
Should You Upgrade To iOS 14?
Definitely you should. There are plenty of reasons to justify our recommendation. To start with, iOS 14 packs tons of practical features out of which some are explained above. Along with features, Apple never skimps on users' privacy.
In fact, Apple's iOS software is undoubtedly the king when it comes to security and protection. iOS 14 takes the privacy controls on the next level. For instance, if any app uses a camera/mic or both, your iPhone will let you know the same on the Status Bar and Action Center. Now, how cool is that!
Furthermore, Apple will even let you know if any app uses the Clipboard functionality. A while ago Apple was able to figure out when TikTok was accessing clipboard data on an iPhone which was running the beta version of iOS 14.
So all in all this latest iteration of iOS is on the next level if you talk about features as well as security. If you are hesitating in upgrading to the latest software, then don't worry we haven't seen any bugs or stutter even on an iPhone 7!
Moreover, if you are planning on buying your first Apple iPhone because of the above-mentioned points then it's the best time in upgrading to an iPhone! There are few deals running on Amazon that you can check out.
There you go, guys!
These were some of our favorite Apple iOS 14 features. As we will continue using this software, we will update the same in the article so do follow us on Twitter and Facebook to be notified!
Hey there!

Just like the above article, we share our 2 cents in the form of reviews, tips & tricks, so do check out those. And if you liked our content do share it with your friends and family! Thanks, we will see at the next one!