Nowadays smartphones are coming with protruding cameras on the back. Because of it, with time your smartphone's cameras will start getting scratches and will provide lesser quality photos and videos. Therefore protecting them from scratches is the need of the hour.
Manufacturers are adding a TPU case in the box to provide a little protection. However, for the unfortunate drops, these cases are not sufficient. So if you plan on using your smartphone for a while then you'll need to protect it.
Armor cases can protect your smartphone from occasional drops and rough handling. But all tough cases are not equally rigid. Therefore, today we are sharing a detailed review of the golden sand rugged case that is economical and can take care of all your worries.
We have thoroughly tested the cover so that we can help you to choose better for your needs. So without anything else, here's the review of the Golden Sand Rugged case for Motorola One Fusion+.
Best Rugged Cover At A Reasonable Price
The Box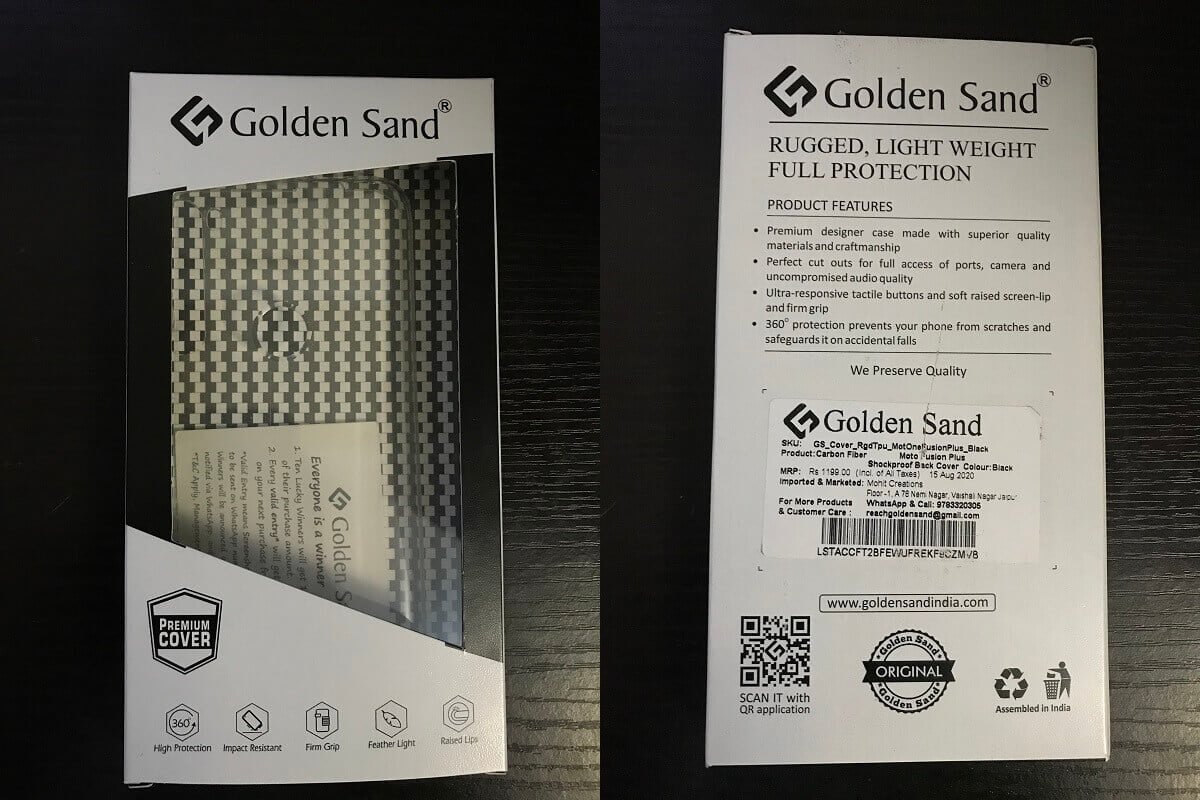 On the box, you will find some of its key specifications like Firm Grip, Raised Lips, to name a few. Since the case is Assembled In India we were quite happy to know that. The printed MRP on the box is RS 1199, but on Amazon, you can get it at half of the price!
In the box, there's a card that will offer you 100% cashback on your purchase by making a valid entry following some of the rules mentioned on their website. Also, with a valid entry, you can receive up to 15% cashback on your next order from Golden Sand.
The best part about Golden Sand company is that they have clearly stated their Whatsapp number where you can reach if you face any issues with the product.
Look And Feel
Rugged covers are presumed to be ugly and heavy but none of the statements holds true for this cover. It's lightweight at around 30 grams that's quite less if put against its competitors. For e.g. Lustree Rugged Case and SkyTree Rugged Case weights 150 grams and 299 grams respectively.
unlike in some cases, this rugged cover offers a firm grip that is not slippery. Moreover, the built quality is fabulous you will not find a single squeaking even if you apply enough force on the case. Because of the reasons, the case feels like a Spigen case that worth double the price.
This cover is not only for protection but also it can level up your smartphone's looks as well. Golden Sand has offered a glossy black carbon fiber pattern that shines when light falls on it. So, for someone who likes to have a rugged case with a few glossy elements, even then this cover is ideal for you.
Golden Sand Rugged Case Holes And Cutouts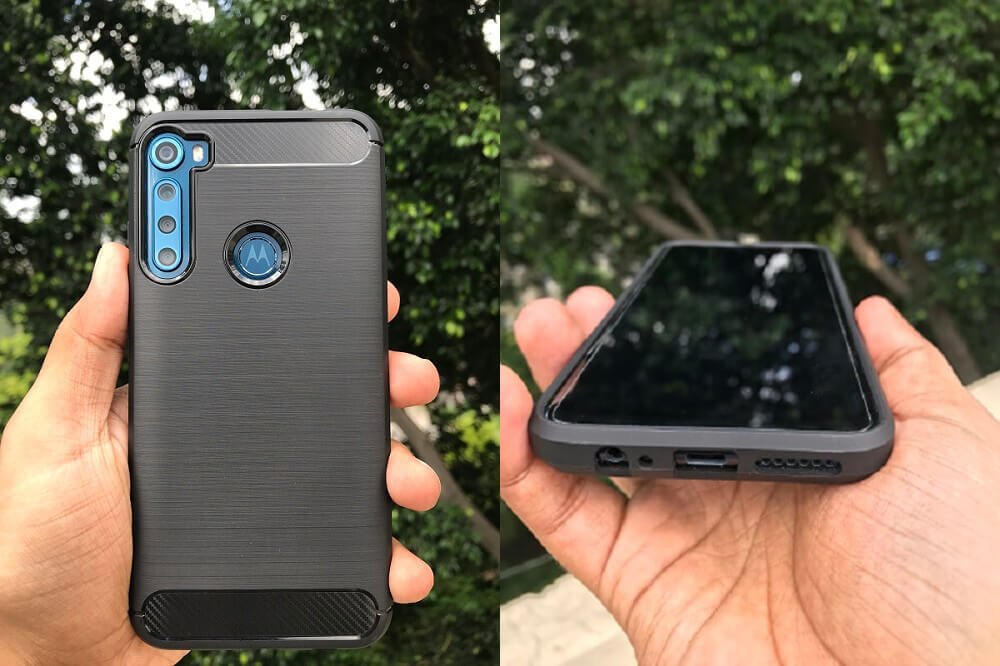 If you are concerned about the cutouts of the charging port, 3.5 MM audio jack, fingerprint scanner, rear cameras then you will not be disappointed. Every cutout is properly formed and no sharp elements can be seen anywhere on the case. Which is quite exceptional in such a price bracket.
Since the case is a little thick on the bottom, you will not hear a click when you'll insert the earphone jack in. However, it will not cause you any trouble while listing to music even while running.
On the right side of the case, you will not find a single branding element that gives it a nice look from the side. The Google Assistant, volume rockers, and power buttons are placed on the exact locations. Though, we found the buttons to be a little hard to press.
Protection
This Armor Series case from Golden Sand is not a joke. The cover is raised near the camera bump and the fingerprint sensor so that it can protect both of them if you will put the phone flat on the table.
Like the rear, the same level of protection is available on the front of the smartphone. You will find approximately 1 MM of lip all around the screen that will protect the display from damage in case of accidental falls.
Moreover, the corners of the case offer an anti-shock mechanism that will absorb the velocity and intencity of the fall and protect the body of the smartphone from getting scratched/damaged.
Is Golden Sand Rugged Case Worth it?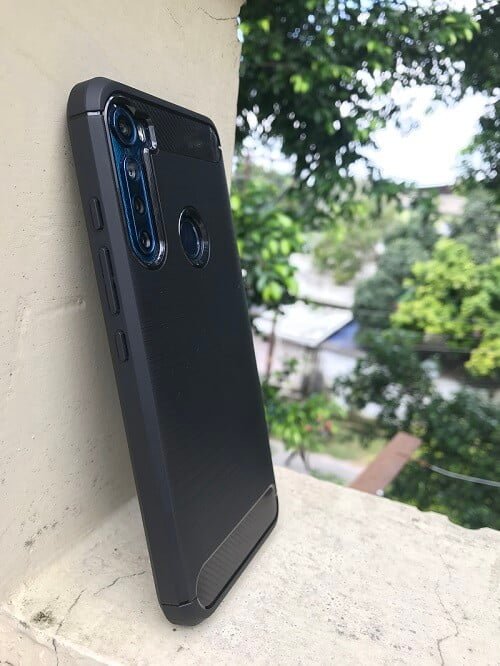 As on Amazon, there were only a few reviews and ratings. Therefore, we were skeptical about the quality of the case. Even though, we went ahead and placed our bet! Since the moment we had our hands on this rugged cover, we were left amazed by its built quality. Moreover, because of the material used for this case, you will not be seeing any scratches or even fingerprints on the cover!
It is a very sturdy cover and you can rest assured by the overall protection on offer for your smartphone. Everything from the display to the camera, all are well protected.
The case you have seen above is in Moonlight Black color that doesn't feel like a regular armor case and looks quite different from the available cases in the market. Additionally, the carbon fiber element enhances the looks even further.
Definitely it is not the cheapest case that offers ruggedness. However, you will get the best in class built quality that justifies its price. You are getting a complete package that offers protection as well as looks for your smartphone. Therefore considering its price and other factors, calling it an alternative to Spigen will be accurate.
We are quite impressed by the Golden Sans slim armor cover case and will be trying out other models in the future. So to learn more about those experiences, do follow us on Twitter, Facebook and Instagram and be notified!
We hope we were able to answer some of your queries. If you still have one, do let us know in the comments section below. If you liked our content, do check out other blogs that we have covered so far on the website.