BoAt is among the top brands in India thanks to the Airdopes series. But out of the 20+ and increasing Airdopes options here are the 7 best BoAt Airdopes that we've reviewed.
Unlike others, Here at PadhKeDekho we have owned, reviewed, and compared the Airdopes with the only objective to help you find the best one. The opinions shared below are after using the devices for at least a month. So you can trust the shortlisted products.
That being said, if you found this helpful do share it with others. Got queries? feel free to ping us on the social accounts below.
So that being said, here are the 6 best BoAt Airdopes.
Most of the Airdopes we tested are from this category. So here's a list of the best BoAt Airdopes under 2000.
#1 BoAt Airdopes 141 ( Best Overall )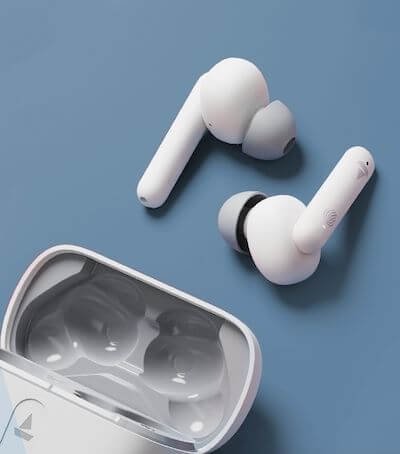 Why Buy BoAt Airdopes 141?
BoAt Airdopes 141 is a successor of the highly popular BoAt Airdopes 131. We've owned 131 and can confidently say that 141 is a great upgrade overall. It's got touch controls on both earbuds too.
The silicone tips of the earbuds offer a snug fit so you can use these for jogging or walking or even perhaps running. For the best possible fit, BoAt includes two additional pairs of tips for better grip and comfort.
The 8mm audio drivers on each earbud produce great-quality music. Be it vocals, instruments, or even base, the earbuds maintain the detail with a great level of loudness. If you like thumping bass, then you can go with these.
Why You Should Avoid BoAt Airdopes 141?
If you are looking for a tiny and compact TWS option then this is not the right one. The earbuds also have a decent weight to them. Secondly, the carry cum charge case is quite big. On the go, the carry case will be bulging out of your pants!
—> BoAt Airdopes 141 Detailed Review <—
#2 BoAt Airdopes 121v2 ( Best Tiny Form Factor )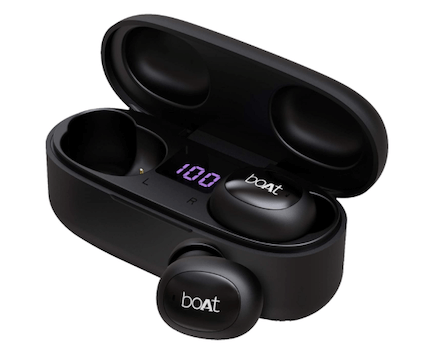 Why Buy BoAt Airdopes 121v2?
BoAt Airdopes 121v2 is a very compact and small form factor TWS earphone. The silicone ear tips make a good seal and earbuds don't fall off that easily. So for casual walking or running they will be good.
Don't think due to the small size they might not sound good! But the 8mm audio drivers deliver loud and distortion-free audio quality. The BoAt sound signature which is heavy base, clear vocals, and decent treble is also present on 121v2.
Even though the carry case is small it can charge your earbuds 0 to 100 about 3 times. While we are at it, the buds themselves can go as long as 5 hours on a single go.
Why You Should Ignore BoAt Airdopes 121v2?
The only con we had with Airdopes 121v2 is in the microphone. You can surely take or make calls without any major issues but the call quality itself is not great. It tends to capture more of the background noise while being outdoors. To be very honest most of the tws earphones around 1200 have similar audio quality. the call quality will be decent indoors.
—> BoAt Airdopes 121v2 Review <—
#3 BoAt Airdopes 441 ( Best BoAt Airdopes For Workouts)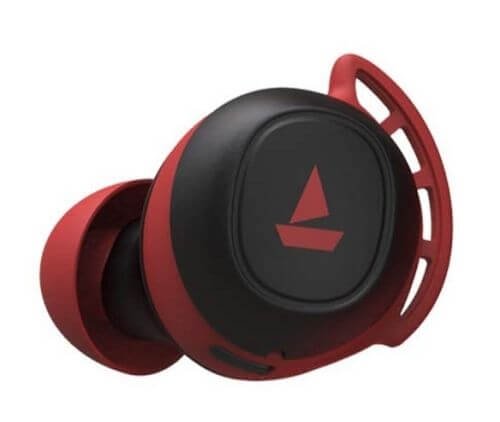 Best BoAt Airdopes For Calling
For Calling, you can check out the below options:-
#4 BoAt Airdopes 441 Pro ( Best For Calling & Workout)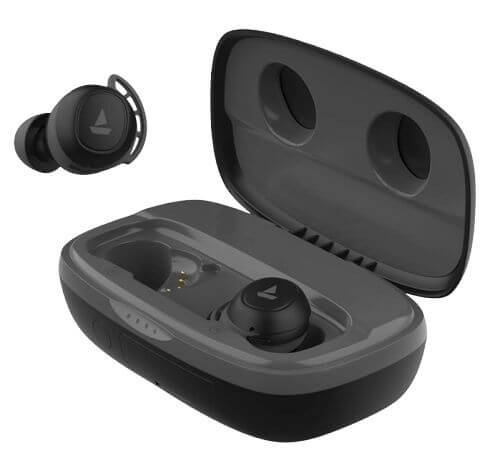 Why You Should Buy BoAt Airdopes 441 Pro?
BoAt Airdopes 441 Pro or the regular 441 is aimed at fitness or sportspersons. Thanks to the ear hooks and the changeable silicone ear tips you can find a snug and comfortable fit within no time. Since all the sports will involve sweat, BoAt Airdopes 441 Pro comes with IPX7 water resistance.
The 6mm Audio drivers do a great job of delivering loud and clear audio output. Unlike other BoAt earbuds that offer deep bass, this one focuses more on treble and vocals while maintaining a great level of detail with decent bass. If you care for music as it is actually then BoAt Airdopes 441 Pro is a clear recommendation from an audiophile to an audiophile.
For convenience, 441 Pro comes equipped with touch controls so you can change songs, accept calls, or launch an assistant with just a tap.
If you are like those of our readers who get battery anxiety, then you should buy 441 Pro as soon as possible! 2600 mAh battery case will keep you tension-free for weeks. This carry case is capable to charge your phone in emergency situations too just like a power bank.
Another thing that we liked about Airdopes 441 is the dual mic on each earbud. Thanks to that, you'll get a clear and life-like call quality. For most of the WFH, this was my go-to buddy pretty much all the time!
Why You Should Avoid BoAt Airdopes 441 Pro?
if you need tws Airdopes for only enjoying bass, then it's not going to be a proper fit. Secondly, due to the bigger case, BoAt could've given a TFT screen for the current battery status. Though it has LED notification lights.
It's not a lightweight tws option either. If you need lightweight then, BoAt Airdopes 121v2, BoAt Airdopes 141, are more suitable.
Read More: Boat Airdopes 441 Pro Vs OnePlus Buds Z
#5 BoAt Airdopes 170 (Best BoAt Airdopes For Bass)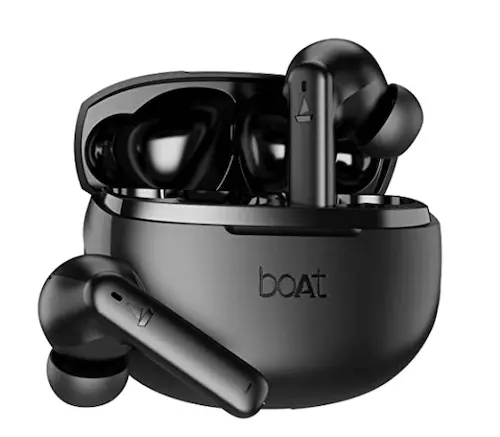 Pros
Good Built Quality
3 Amazon Color Options
13mm Drivers Are Great For Bass Lovers
Earbuds Can go Very Loud
Decent Grip For Workouts
Comfortable Pair of Earbuds
Insta Wake N Pair Works Good
Great Battery Backup
Support Fast Charging
Low Latency For Gaming is Good
Call Quality is Great
Cons
The Case is Slightly Bigger
Why You Should Buy BoAt Airdopes 170?
It's a new addition to our 7 best BoAt Airdopes list. Why? because the 13mm drivers are truly a powerhouse. Unlike BoAt Airdopes 161, both the earbuds on BoAt Airdopes 170 are synced and you can experience similar output.
The low-end frequencies are very well tuned that you can feel that in detail at any volume. another good thing is the loudness. It's as loud as 161 but it does not lose quality at max volume. So you get distortion-free audio quality.
The 13mm drivers are well-tuned. It is such a bass-heavy sound signature that does not overcome the vocals, instruments, and even treble. We were not expecting such quality at this price.
Hence for bass lovers, BoAt Airdopes 170 gets our approval.
#6 BoAt Airdopes 391 ( Comfort Adjustments + Good Mic)
Why You Should Buy BoAt Airdopes 391?
if you are a bass lover, then this one gets our vote! On paper, the 6mm drivers don't seem much but the tiny buds can get your ear canal thumping! The best part about 391 is the loudness. These can go pretty loud and bass-heavy, they will pump adrenaline while you work out!
Secondly, the design of the earbuds is such a way that they snugly fit the ear, and a total of 4 pairs of silicone ear tips offer the best grip.
Not all earbuds have great call quality, but this one impressed us with the best in the lot! The call quality is clear, never in my 5 months of ownership, have I received a single complaint about it. So need a tws for calling then BoAt Airdopes 391 is the best choice.
Why You Should Ignore BoAt Airdopes 391?
The battery backup of the earbud is not a strong point. Don't get me wrong, it can deliver up to 4 hours of juice in a single go. But at this price, you have options like Airdopes 441 Pro and Airdopes 621 that are miles better in that context.
Secondly, the design of the earbuds might not appeal to many. Especially if you have small ears, the earbuds will be bulging quite a lot. Though they will never fall, they might irritate you while wearing a winter cap.
#7 BoAt Airdopes 413 ANC ( Best BoAt Airdopes With ANC)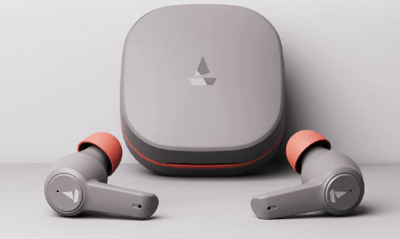 There You Have it!
These are our top 6 best Boat Airdopes reviews. These 7 best BoAt Airdopes can cater to all of your music and calling needs. Since we've owned all of the above and used these for around 5 to 6 months, we feel confident in recommending these to our readers.
if you still have last-minute quires or doubts then do reach us on any of the below social accounts. We love to help our readers to choose better!
If this article helped you in decision making then please use the below Amazon button to make your purchase. We will earn some commission from the brand at no additional cost to you. In this way, you will be supporting local content creators. Thanks for being a patron!
Suggested Articles!
F.A.Q
Which BoAt Airdopes Are Best?

BoAt has currently 20+ Airdopes. We've been through those, and here are the 6 best Airdopes we have owned and used for more than 5 months! Click now to learn more.
Which Are The Best Airdopes By BoAt?

The Best Airdopes by BoAt are

BoAt Airdopes 121v2
BoAt Airdopes 141
BoAt Airdopes 441 Pro
BoAt Airdopes 621
BoAt Airdopes 391

Why these are the best? Read this article to find out more!
Best BoAt Airdopes To Buy?

The Best Airdopes by BoAt are

BoAt Airdopes 121v2
BoAt Airdopes 141
BoAt Airdopes 441 Pro
BoAt Airdopes 621
BoAt Airdopes 391
BoAt Airdopes 413ANC

These are the ones we have owned and currently using. So click now to learn more.
Is BoAt Airdopes Good?

Yes, BoAt Airdopes are good but not all are equally good! Some offer better value. While others are great in features and durability. We've owned and reviewed more than 5 BoAt Airdopes in this article. Click now to learn more.